How to get the Modern Hamptons look
We have the pleasure of writing a series of guest editorial columns for Home Beautiful, focusing on a range of particular styles under the banner of Hamptons homes.  We continue the series with the Modern style for the September edition of Home Beautiful.
Within the Interior Design world, there are two words – Modern and Hamptons – that are rarely used in the same sentence!  However, this style is becoming more and more popular in Australia and it is dying for attention!
The Modern Hamptons look is cleaner, has straighter lines and adds a masculine twist on coastal style. This is becoming more attractive to a younger demographic who are embracing a minimalist and monochromatic atmosphere for their home, while still appreciating timeless design.  If you like things simpler and striking, then the Modern Hamptons look is for you!
THE FEATURES:
In Australia, you can spot a Modern Hamptons home by its exterior colour palette.  From a charcoal, a deep navy blue to a solid black, the weatherboard staple gets a moody makeover.  Trims are pared back yet they remain finished in a classic white for a sensational contrast.
External features like balustrades, fencing and doors, are less detailed and have a more squared design. The window detail lacks any beading like its classical counterpart, removing any frills and fuss that may over-complicate a Modern Hamptons home.
Internally, feature walls still showcase a contrast of detail.  A full height wainscoting box, creating almost a picture frame of a wall keeps the Hamptons attribute while remaining minimalistic.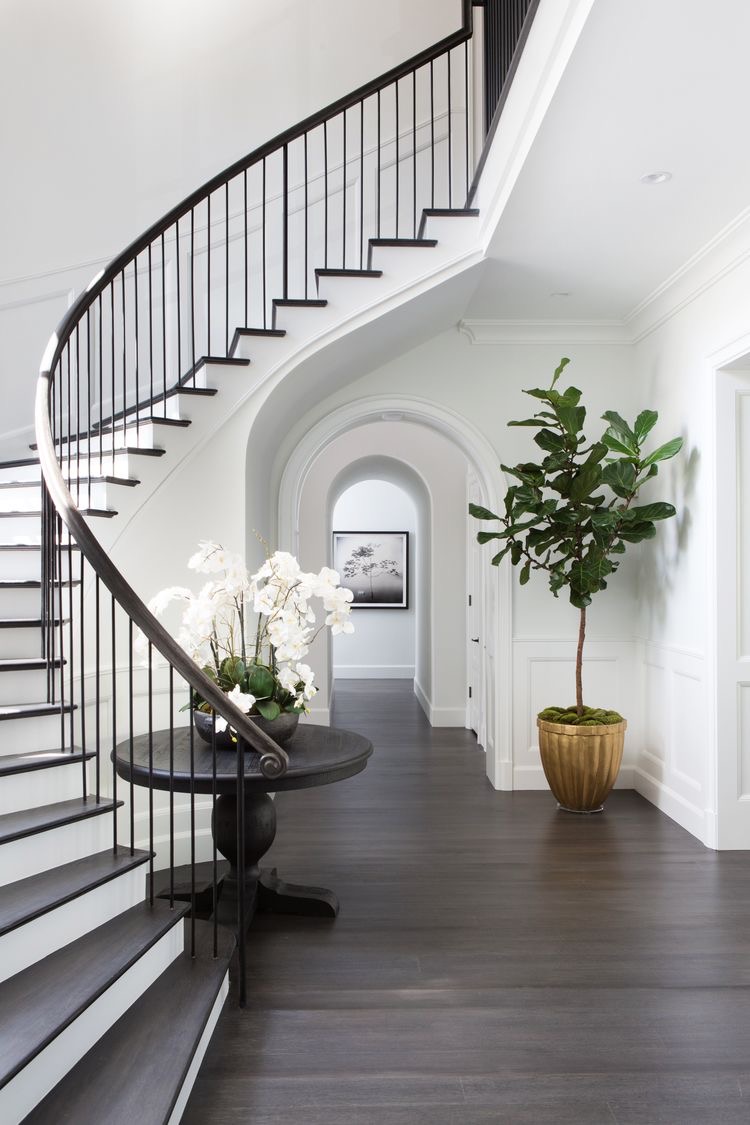 White walls and trims are essential to contrast darker floors, often in a clean black Japanese stain. The crisp white balustrades and newel posts of a staircase are less invasive, with spindles of thin iron rods, allowing the black riser and handrail to have their moment in the spotlight.  These clean details are what identifies a Modern Hamptons home.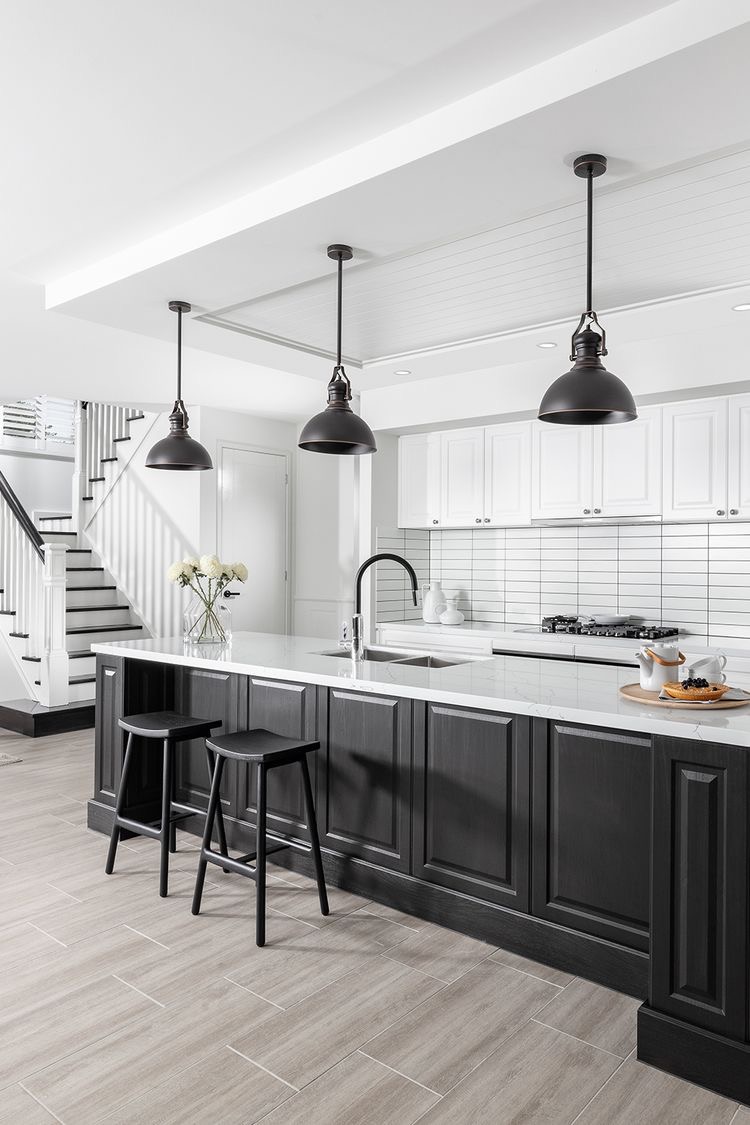 Cabinetry in this style is simplified, using dark leathered benchtops or feature marble with dramatic veins.  Tapware is sleek and streamlined, either in a matte black or a rumbled, organic brass finish but without the extra glamour and fuss.  Black or brass hardware look amazing in modern kitchens and wet areas, enhancing a minimalist and masculine style.
Overhead cabinetry would feature glass internal shelves rather than standard white, and simple doors if you lean more towards a classic base.  The use of exposed wrought iron, or floating wood shelves would also suit, pushing your modern look in the industrial direction.
Bathrooms can showcase some personality with a black or grey encaustic floor tile for added appeal, with a staple splashback of white subway tiles in a gloss finish.  Alternatively, you could use grey or black subway tiles to emphasise a moody monochromatic palette.  Frameless mirrors with a soft warm backlight are an obvious choice.  Add a feature pendant over the bath, like an organic shell pendant with brass fittings to tie in the coastal elements of a Hamptons home while injecting some personality.
THE FURNITURE
Soft greys and off white furniture in linens and simple layers of natural textures give a subtle nod to the Hamptons.  In your solid pieces like coffee and side tables and sideboards, introduce wrought iron or black metal and glass.  Look for clean lines and substance while keeping the palette neutral. Raw wood elements are also an excellent addition to soften hard lines and add natural warmth.
Texture is still important while we remove the typical printed textiles of our cushions and throws – lean towards velvet if your modern style is more high-end, or linen if you are after a relaxed minimal atmosphere.   There are little to no patterns in a Modern Hamptons living room, save for a grey stripe rug over a larger jute.
Sofas with large square arms and simplified occasional chairs are the way to go.  You could incorporate a curved feature in any of these, to make the room feel softer and more inviting.  There is almost no hints of colour or cane within these walls, remaining focused on a few materials without over doing it but feel free to play around with all the shades of grey! We also can incorporate a little tribal element in our vignette styling for texture and interest.
Lighting can be structured with the use of glass or iron chandeliers.  Think wood or concrete for the base of your table lamps for a modern twist.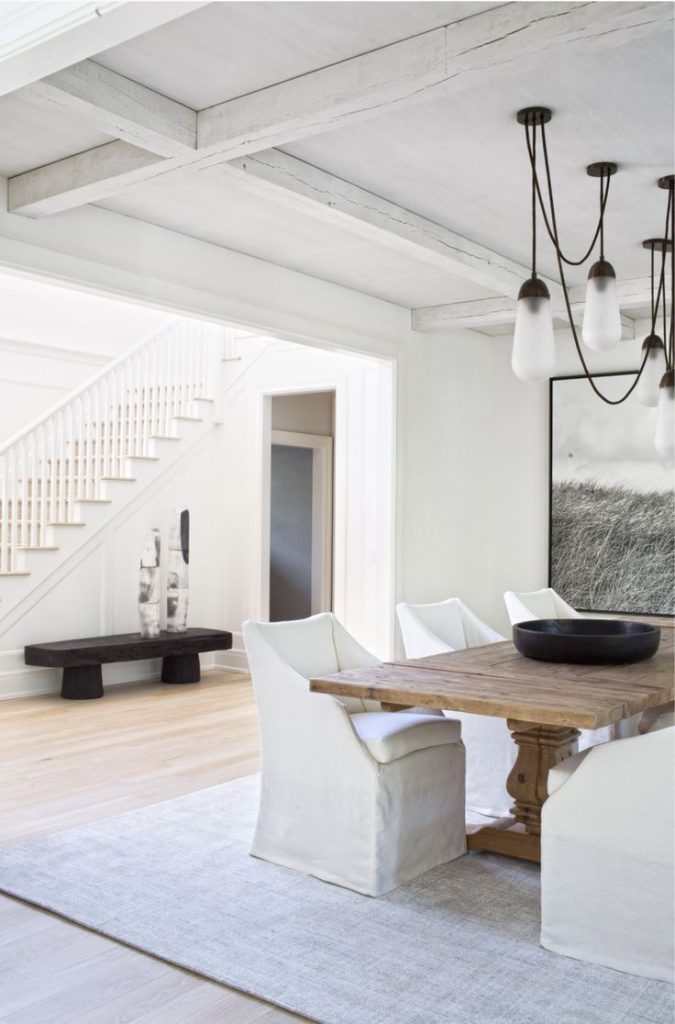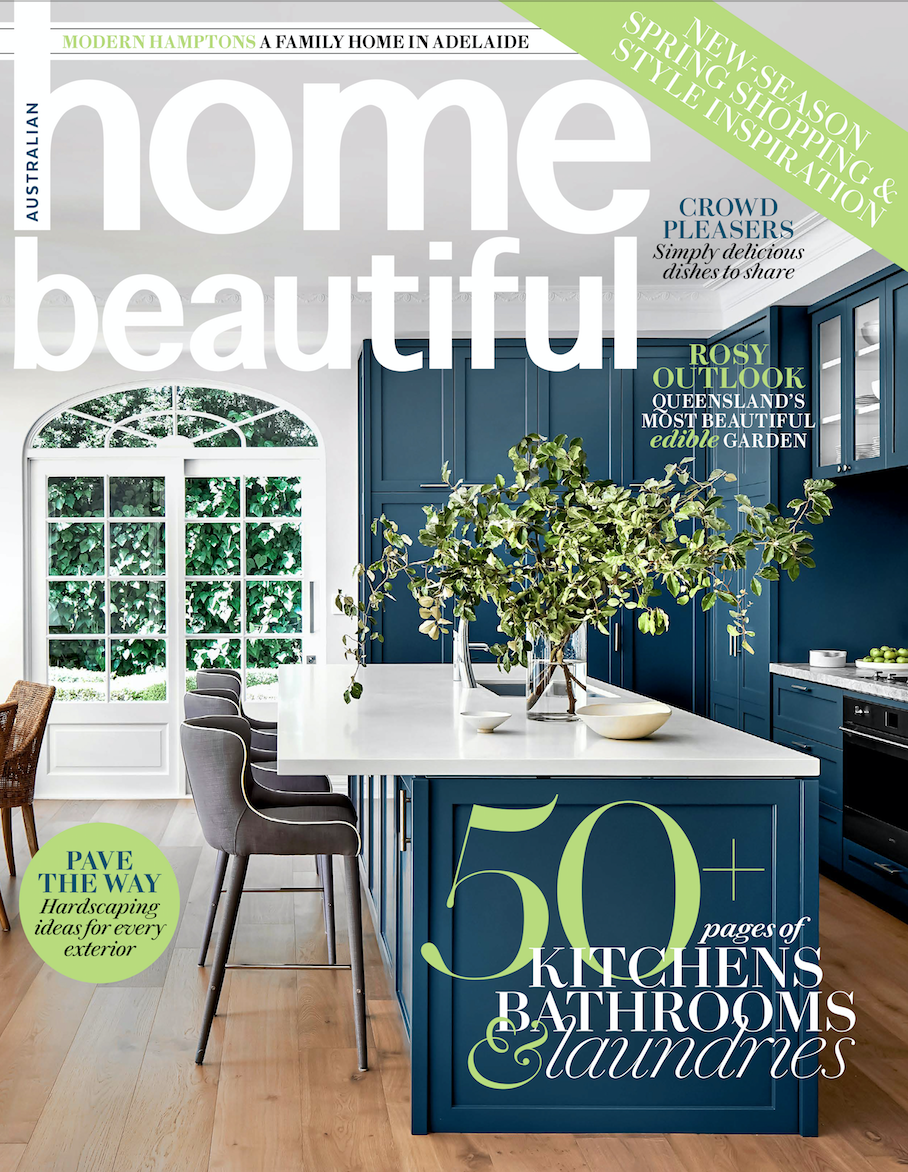 We hope you enjoyed this excerpt from our guest editorial column with Home Beautiful!
Subscribe to Home Beautiful's newsletters and magazines or pick up a copy from your local newsagent – on sale the first Monday of each month – to stay up to date!