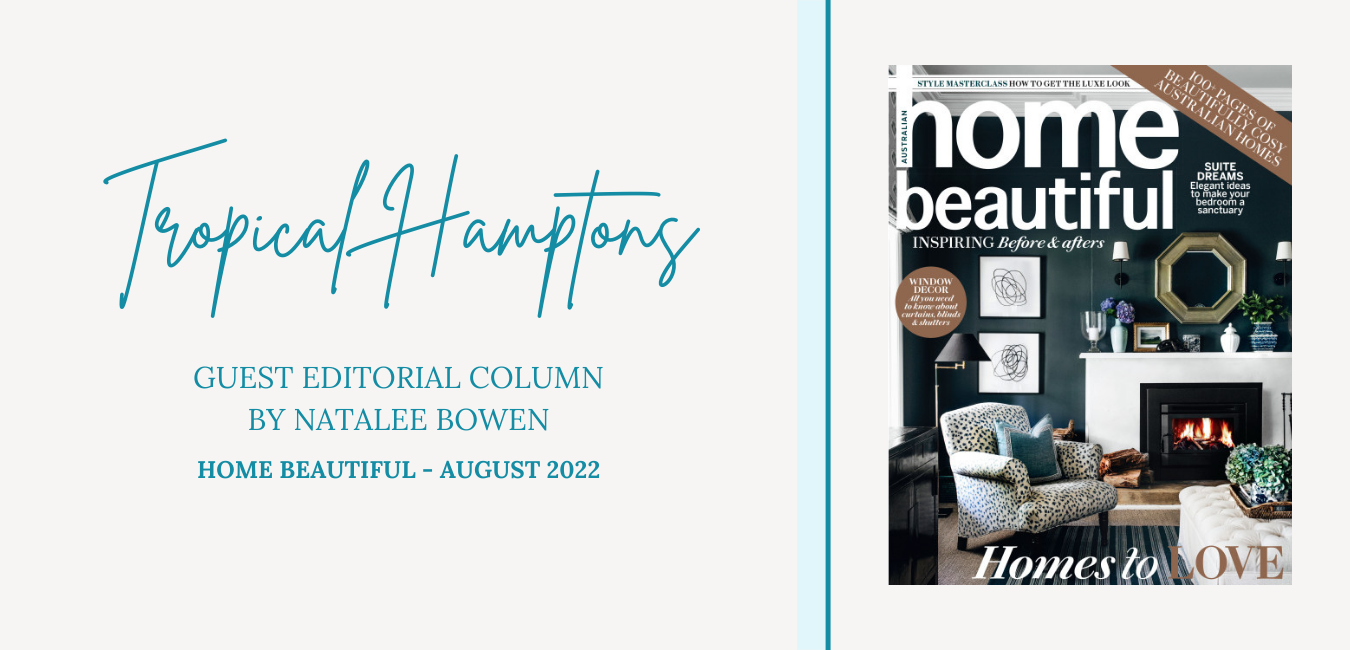 How to get the Tropical Hamptons look
We have the pleasure of writing a series of guest editorial columns for Home Beautiful, focusing on a range of particular styles under the banner of Hamptons homes.  We continue the series with the Tropical style for the August edition of Home Beautiful.
If you want to feel like you are living a holiday all year round, then the Tropical twist on a Classic Hamptons home is for you!  With the sound of swaying palm fronds on a balmy summer day, the Bahamas are front of mind. The Tropical Hamptons look is where the beach meets the tropics. A stunning mix of furniture featuring tobacco rattan, pops of black and Kentia palms a plenty will create a casual sense of holiday bliss!
The look is heavier and much more layered than the Classic style, but in a relaxed way. It is fun and full of character; this is where you can embrace your animal prints such as zebra and leopard, mixed with geometrics rather than floral fabrics.  This look is calming – almost meditative – in its feel. With open plan living and free flowing breezes, this style can be created in almost all environments and it looks best when the flow of your home brings the outdoors in.
THE FEATURES:
From the external façade, you will note calming white weather boards with James Hardie linear, hugging the home with beautiful planation shutters balancing the windows. These are more ornamental then practical and can be either painted in a white, a dark timber stain, or if you are willing to take the leap, they would look incredible in a stunning shade of blue!  A tropical home's standout exterior features are cross style balustrades and palm trees in the gardens with fragrant frangipanis aplenty!
Internal details can be mixed and eclectic but noticeably the classic ceilings that would be coffered are now laced with Hardie groove inside the square and with a smaller beading detail.
Wall layers are created with a laid-back look of vertical linear boards and simplified mouldings. It is a real mix of the coastal meets the tropics. Bathrooms in these homes incorporate natural texture through timber vanities with brass hardware and a more monochrome palette, replacing marble accents.  Rattan pendants – or if you are feeling fancy, go for gold – over the island bench in a kitchen and dining room area will make your entertaining feel so ambient and inviting.
Kitchens are paired back with a relaxed feel in either white or a soft blue hue.  Here you can add in some mesh or cane inserts as a cabinetry door feature to create that tropical look.  Be bold with your splashback tile, either in a luxurious marble fan shape or incorporate a pop of colour!
Coffered ceilings with VJ panelling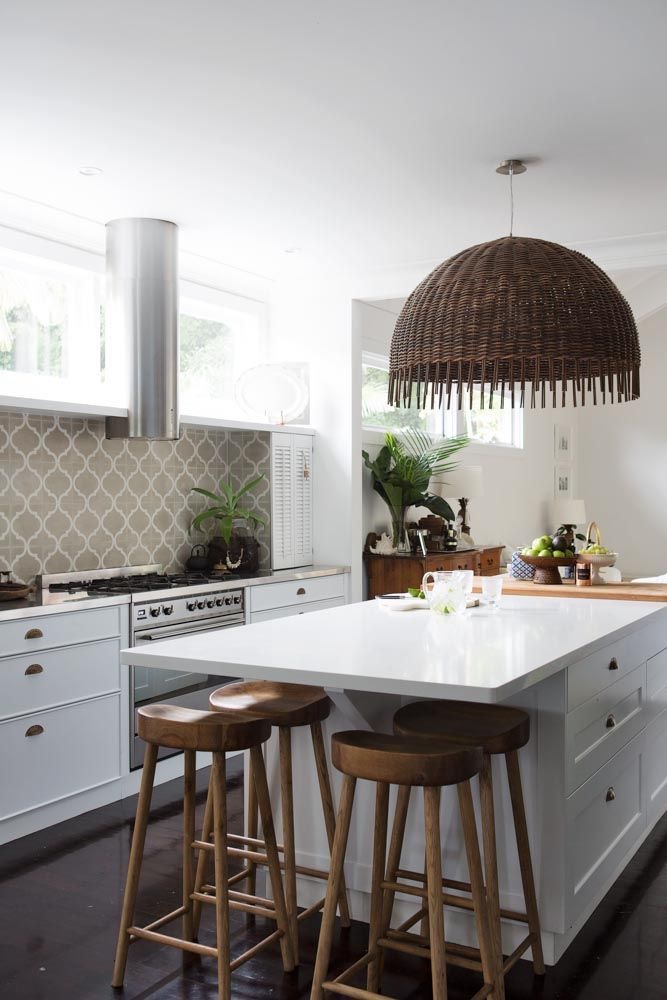 A neutral, textured kitchen
THE FURNITURE
Lighter timber floorboards are prominent with layers of jute rugs, square arms sofas instead of a classic roll arm, dressed in loads of neutral linens. You will notice cane and rattan elements throughout; these pieces will ground the rooms and keep a common thread of a Bahamian holiday. It's the favoured style of Ralph Lauren's homes with dark and moody themes.
The master bedroom of a Tropical home is the perfect space to splurge and incorporate a regal timber fourposter bed, draped in light breezy fabric.
Blue and white ginger jars still have a place in the Tropical style however they should be filled to the brim with fresh foliage! Art in these homes would showcase palm trees, or wild animals such as turtles or zebras.  A full wall mural depicting a luscious jungle landscape would be divine in a formal dining or lounge space for a traditional plantation look.
The Tropical Hamptons style is bound to inspire your creativity and to enhance the 'holiday at home' feeling!
We hope you enjoyed this excerpt from our guest editorial column with Home Beautiful!
Subscribe to Home Beautiful's newsletters and magazines or pick up a copy from your local newsagent – on sale the first Monday of each month – to stay up to date!