How to use Colour in a Hamptons home
We have the pleasure of writing a series of guest editorial columns for Home Beautiful, focusing on a range of particular styles under the banner of Hamptons homes.  We continue the series with an emphasis on Colour for the July edition of Home Beautiful.
The quintessential colour palette of the Hamptons has always been blue and white, however in recent years this look has evolved, both in America and also in Australia. The use of colour and layers is more prominent now, as we see people inject their own personality and unique style into their Hamptons-esque homes.  Through fabrics, art, rugs and furniture upholstery, colour is guiding the individual's own goal for the final look they crave!
While the casual atmosphere of a Hamptons home is usually communicated through its neutral palette, now neutral is being used more as a grounding colour to create more vibrant looks.
The opportunities with fabric are endless!  Available in a delicious variety of patterns, textures and a multitude of layers, this is the key to changing up your typical Hamptons style. Blues are, of course, the staple colour of Hamptons but the shade and tone of the colour may vary, from a soft duck egg blue to its most vibrant cousin cobalt. The navy and light blues are still a must have, but these two can collaborate with a range of other colours.
Lets take a look at the Classic Style; here we team our deep blues with a lush green, showcased through floral and stripe patterns.  This is an energised colour palette, with a flow between your indoor and outdoor living spaces.
Tropical Style introduces warm caramel tones with a range of greens that tie in a plethora of palms that have to be used in this style of home!  We see these tones generated in more geometric patterns than florals.
The Modern Style almost eliminates colour altogether and finds its balance in monotone greys and whites. This look is masculine and minimalistic, relying on pops of black to enforce the statement style.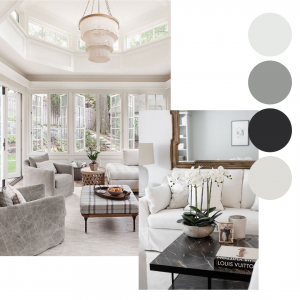 A Country Hamptons Style begs for greens and caramels once again but working together with the natural elements to mirror the glorious landscape.  Wheat coloured caramel with a soft green palette in the winter months are a match made in heaven! This look depends on its pretty floral designs to embrace the seasons.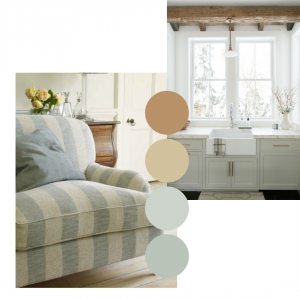 An Australian, Modern Coastal Style is seemingly stripped back from colour, with a base palette of neutrals and whites on whites.  These tones can vary from warm to cool – both are embraced in this style!
The Nautical, Classic Coastal Style is heavy on the navy and white contrast, and this is a favoured look for its timeless traditional effect. It utilises lots of stripe patterns and natural textures through rugs, fabric layers and art.
The accent colours you choose to highlight should represent the natural landscape surrounding your home and your own unique style!
We hope you enjoyed this excerpt from our guest editorial column with Home Beautiful!
Subscribe to Home Beautiful's newsletters and magazines or pick up a copy from your local newsagent – on sale the first Monday of each month – to stay up to date!