Hamptons Outdoor Living with NewtechWood
One of our "must haves" for my Hamptons Farmhouse were big expansive verandas, leading out to the amazing rural landscape. When the size of your outdoor deck is larger than most Australian homes you need to select your decking materials carefully. Wrapping around our renovated Hamptons farmhouse, the expansive 293 sqm deck complements the home's exterior and enhances the outdoor furnishings while unifying the indoor and outdoor space.
Not wanting to compromise on design details, the decking had to be hardwearing but also achieve the laidback luxe style I am renowned for.
My search for the perfect decking came to an end as soon as I laid eyes on NewTechWood's latest composite decking range. I knew instantly the Coastal Range would create the warm wood textural backdrop which would be an ideal canvas for my outdoor furniture and decorative pieces. This is high quality composite wood decking taken to the next level. The NewtechWood Coastal Decking Range has deep grained wide planks that truly look like wood and add another rich layer of texture to my outdoor entertaining area.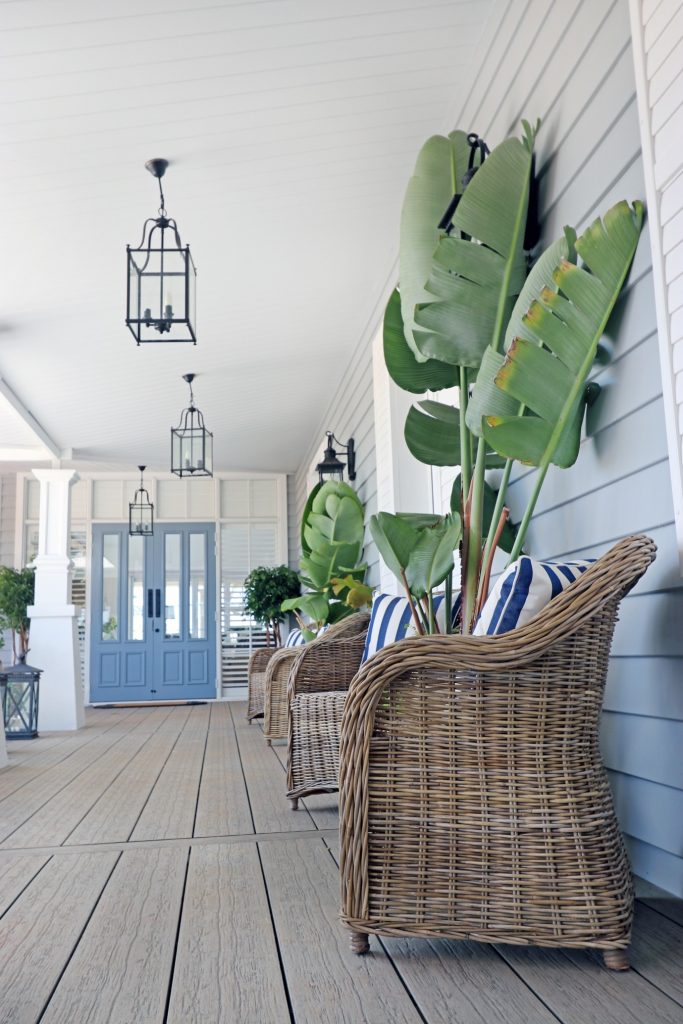 While the coastal range is available in three colours I selected Antique which was so aligned with my aesthetic, you would have thought it had been custom made for my Hamptons Farmhouse given its vintage finish and natural colour variegation.
I'm all about eye-catching design and natural textures, but practicality and function also play an enormous role when choosing finishes for my own home and the homes of my clients.
NewTechWood uses the innovative Ultrashield technology to ensure that the composite decking boards are fully capped, giving protection to the boards making it very low maintenance. I don't have to paint, seal or oil the deck ever, which means I don't have the inconvenience of removing all the furniture annually as I would for a traditional wooden deck. It won't splinter, crack, mildew or mould and the colour is UV resistant and won't fade.
The coastal decking range delivers a natural looking high-end finish with all the convenience of being long lasting and ultra-low maintenance and is also backed by a 25 year warranty. You can find out more about the Antique Coastal Decking I used here : https://newtechwood.com.au/composite-decking-australia/coastal-range/