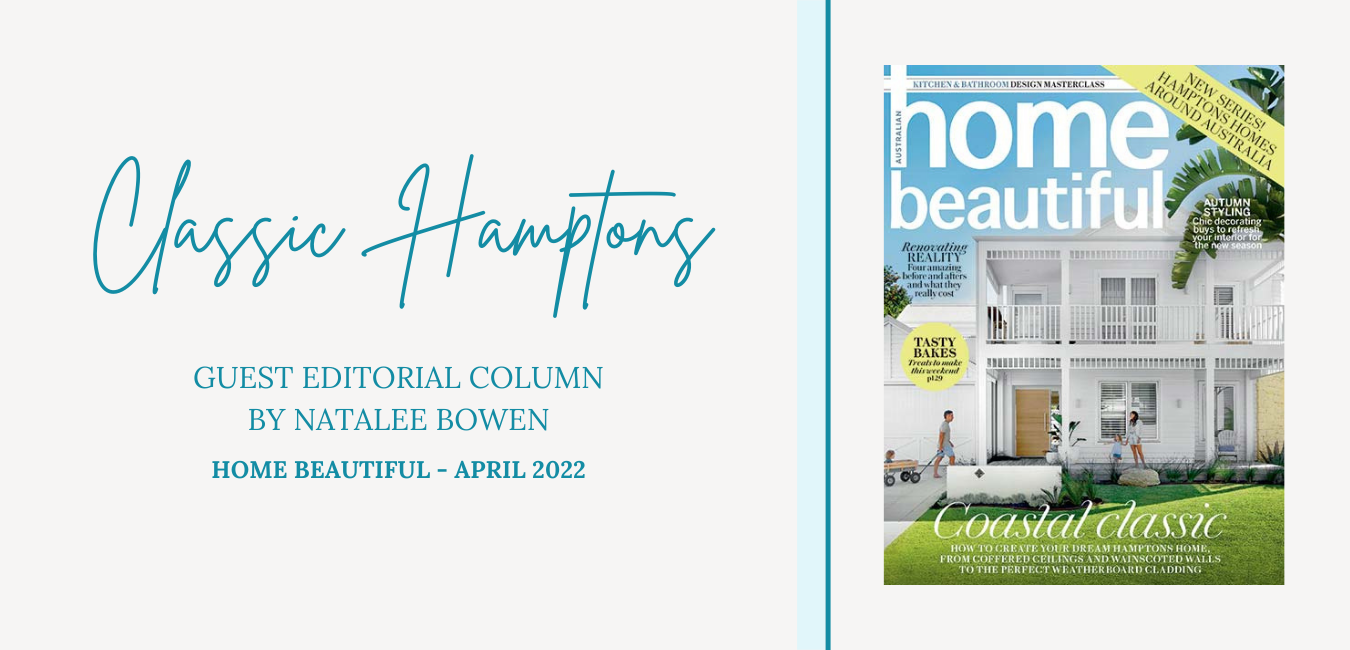 How to get the Classic Hamptons look
We have the pleasure of writing a series of guest editorial columns for Home Beautiful, focusing on a range of particular styles under the banner of Hamptons homes.  We commenced the series with the Classic style for the April edition of Home Beautiful.
Within the walls of our homes, we are able to create personal retreats and escapes; a cocoon from the rituals of day-to-day life.  Designing your home extends to designing your lifestyle – one that will be the envy of all!
The timeless appeal of the Classic Hamptons style is a refined balance between sophistication and relaxation with indulgent luxury.
The way to master the flow of your home is to add details from front to back that capture the eye as you walk through.  The Classic Hamptons home begs for applause from the moment you enter; with coffered ceilings, layered wainscoted walls and sweeping staircases that delight the senses!
THE FEATURES:
The staircase of a Classic Hamptons home should be its crowning jewel!  Details like a bold newel post with carefully designed spindles – either in a Chippendale pattern or with ornately carved spindles – can be carried throughout the home into other features, making the spaces communicate together.  A black step with a white riser and a bold handrail demand attention!
Coffered ceilings are perfect for a high-end luxury home!  These often include intricate mouldings to add allowance for shadow to pop in every square! Coffered ceilings can be used in an entrance, a great room or any area that requires an extra layer of drama!
Wainscoting is like icing on a cake for your walls. It starts with a beautiful deep, rounded edge dado rail that then works down towards a carefully designed smaller rail. That then guides you along the wall in a square or rectangle design.  This style looks exceptional in entrances, on staircases and they can become a major feature of any wall just by layering these intricate mouldings. They masterfully blend with skirting, cornices and architraves that then allow your colour palette to pop!
Cabinetry is always a highlight but when it comes to a Classic Hamptons home, there is no greater feature than the kitchen itself!  Gone are the days of hiding the kitchen – a Hamptons home is all about entertaining and showing off! The island bench is always the centre of attention, embracing lengths of soft toned Carrara marble.  A feature oven is a must have, sizing no less than 900cm. This becomes a wide, freestanding masterpiece that is not only for cooking but for centralizing the cabinetry design.  A beautiful rangehood demands bold extruding features with glass cabinetry either side, to showcase your collated dinnerwares. Tapware, hardware, butlers sinks and stunning pendant lights are all distinctive elements in a Classic design.
A bath is a must have feature for a Classic Hamptons bathroom.  Whether you use it or not becomes irrelevant when it commands such a luxurious presence in a space!
With freestanding tapware – which is practically jewellery for a wet area – and panelling or shelving, wow moments will abound!  Your counter can be a spot to indulge in by adding a feature mirror, wall sconces and pendants, with a double basin that features refined front panelling that is more than just shaker style.  Marble flooring with a statement border or a checkboard detail is what it's all about!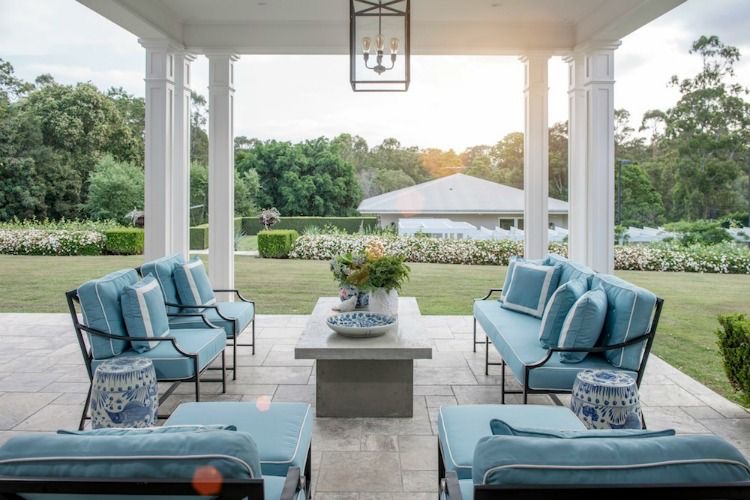 A Classic Hamptons outdoor area should be an experience – opening up to flowering arbours, an entertaining alfresco and relaxing sun loungers by the pool.  Outdoor spaces are as equally important as indoor design as it fully encapsulates your lifestyle.   The pleasures of hosting your loved ones and swanning around the pool are sure to be an entertainer's dream come true!
THE FURNITURE:
When styling a Classic Hamptons home, we introduce the traditional blue and white palette, but include floral and oak tones for depth that translate to a more traditional style. Our Indah Island x Carnival Homewares stripe rugs are essential to set the scene.
Blue linen sofas in a traditional roll arm style are both comfortable and beautiful! Our best-selling Bobbin Armchair is a perfect choice for more statement seating. Their dramatic back design make these chairs breathtaking from all angles! Chesterfield chairs with deep button backs are another great option.
An oak coffee table grounds the space and contrasting side tables bring personality into the room.  I always love to include a bit of rattan in every space to incorporate another layer of natural texture.
Vignettes with eclectic antiques and blue and white ginger jars are a fun way to let your personality shine through.
Lastly, lighting is more elegant in a Classic Hamptons home, with hanging chandeliers of crystal and brass.  Wall sconces and pendants will take your bathroom to the next level and beautiful table lamps scattered throughout will bring ambience and interest to each space.
We hope you enjoyed this excerpt from our guest editorial column with Home Beautiful!
Subscribe to Home Beautiful's newsletters and magazines or pick up a copy from your local newsagent – on sale the first Monday of each month – to stay up to date!