How to get the Country Hamptons look
We have the pleasure of writing a series of guest editorial columns for Home Beautiful, focusing on a range of particular styles under the banner of Hamptons homes.  We continue the series with the Country style for the May edition of Home Beautiful.
Long before the Hamptons became a beloved vacation destination for New York's most affluent, it was simply a string of isolated, barn style farmhouses on sprawling estates in the American country. It wasn't until the late 1900 to early 2000's, that the wealthy elites started building their beach side holiday mansions, and this is the ocean-esque concept we mainly associate with Hamptons style.  Fortunately, the Hamptons style isn't limited to the coastline and can be just as magnificent on a rural property. The houses you see on the original farms usually host traditional practical barns, and they have these beautiful homestead-style houses.  It should come as no surprise then that this timeless interior style has been adapted so well to suit our Australian country charm.  American summer getaways only last three months of the year, yet Australia's glorious climate is perfect for open plan living that transitions into indoor/outdoor entertaining all year-round.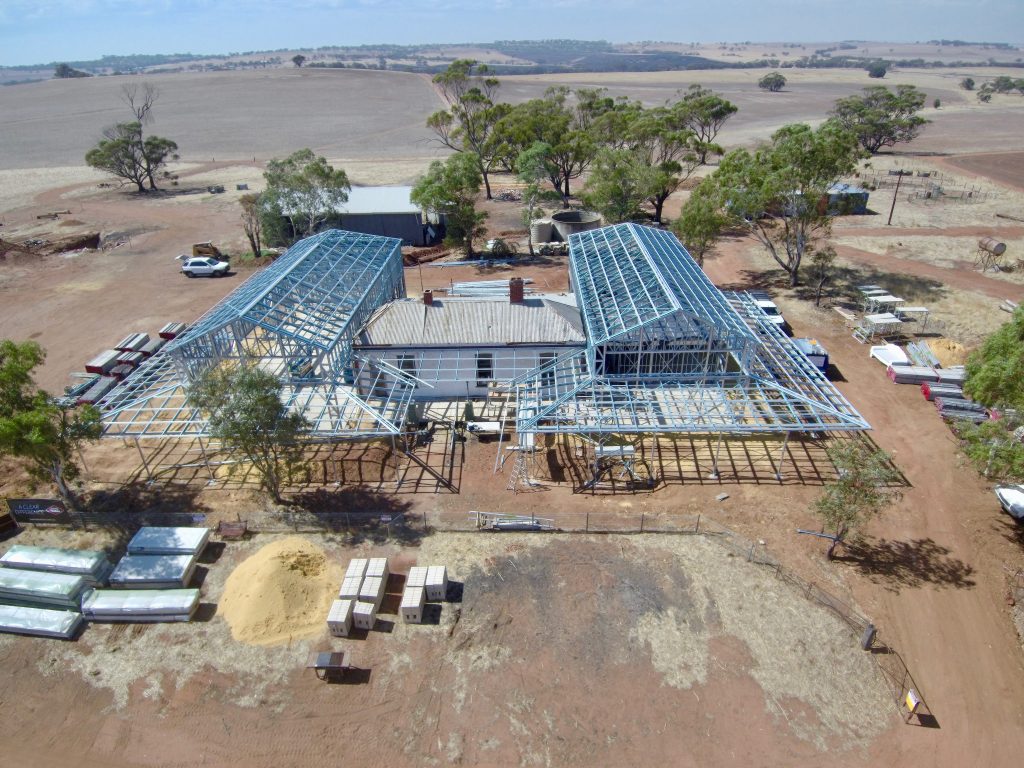 THE FEATURES:
There's just something about being in the country that revitalises you – the air is better, you sleep deeper and the days seem longer!
A Country Hamptons house is an eclectic mix of both traditional and tropical styles.  Think rustic timbers, earthy hues and full wraparound verandahs. Barn style sliding doors and timber accents abound in a country home, with a no-fuss, laid back atmosphere.  There is a homeliness to a country house, with huge collections of books, hooks for your copper utensils and eclectic collectables throughout.
While the kitchen remains the heart of the home and the centerpoint for entertaining, it should incorporate more timber than marble as durability becomes a priority.  A butlers sink is always an essential and so perfectly suited to the farmhouse aesthetic, and shaker style cabinetry with matte black hardware provides timeless storage.  If you're brave, choose a beautiful blue hue for your island bench!  Kitchen vignettes really sell the country charm vibe, when you stack wooden utensils in white ceramics, fresh herbs on open shelves and lots of heirloom cookbooks.
Although the rule of thumb is generally 'do not mix metals' in a single zone, a country home tends to have grander proportions so mixing up the finishes of your hardware and tapware can be a fun way to inject some eclectic personality!  In the Hamptons Farm Estate, we used black handles throughout, with polished nickel tapware and most of our feature lighting shows off a brass tone.   Include just enough of everything to create balance and you'll find that on a big scale it all works together!
Cornices and skirting are pared back in a country Hamptons home.  We tend to see more Hardie Groove Lining on the walls than traditional wainscoting.  There's also no reason you cant do both – with a half height wainscoting design and big panels of VJ separated by a simple dado rail. Dark timber floors will ground your home (pun intended!) with a tone of warmth while bringing in some old-world character.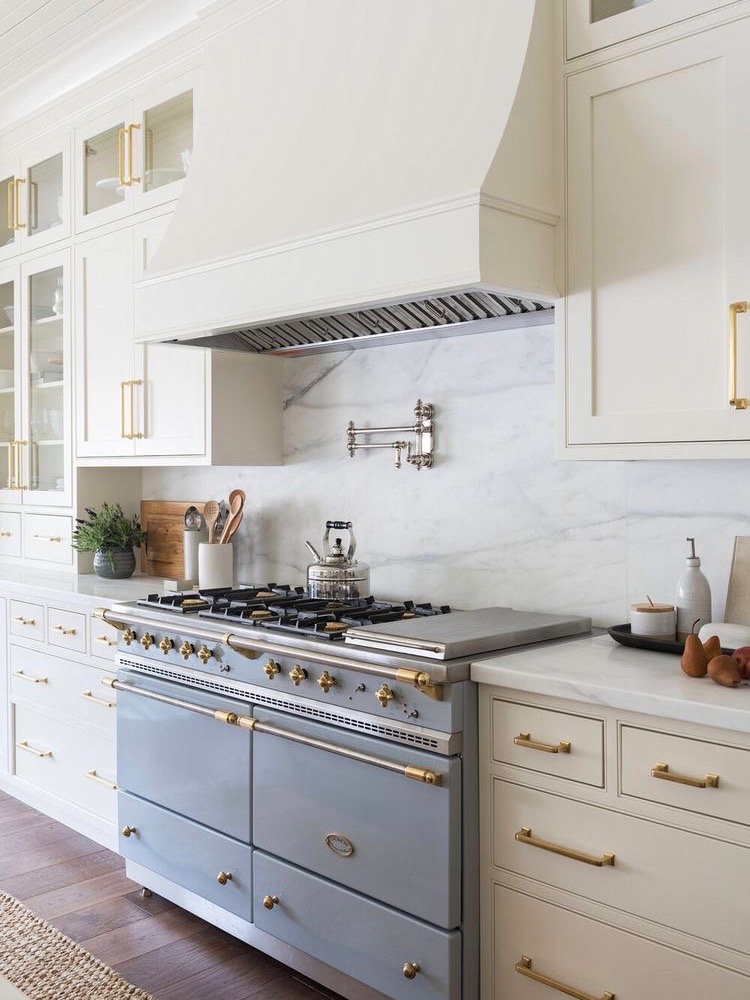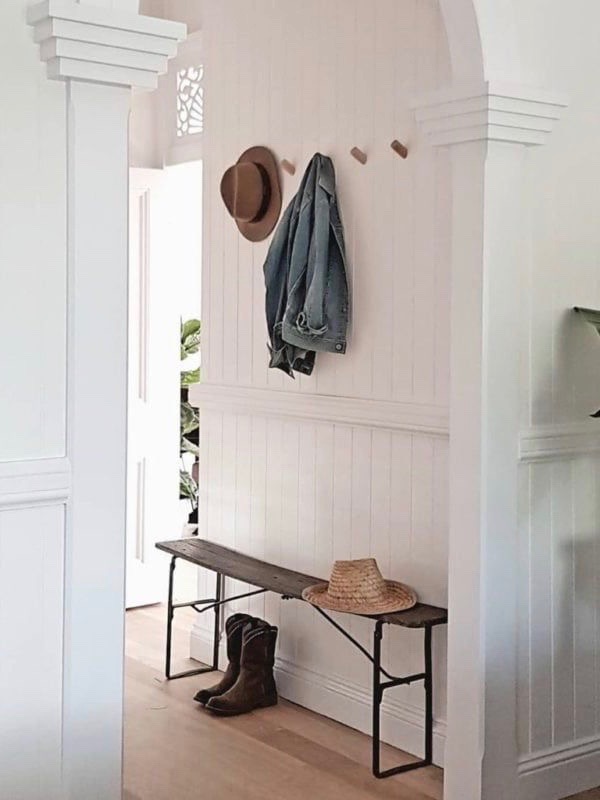 For practicality's sake, the Country home wouldn't be complete without a mud room! Acting as an informal second entry, it is designated to intercept dirty shoes, Akubra hats and wet coats before they are traipsed through your beautiful home!
The kitchen may find it has some competition to hold the title "heart of the home" when a beautiful fireplace is involved! Floor to ceiling stone would make a magnificent feature and a wooden mantle will be the focus point of for your styling all year round!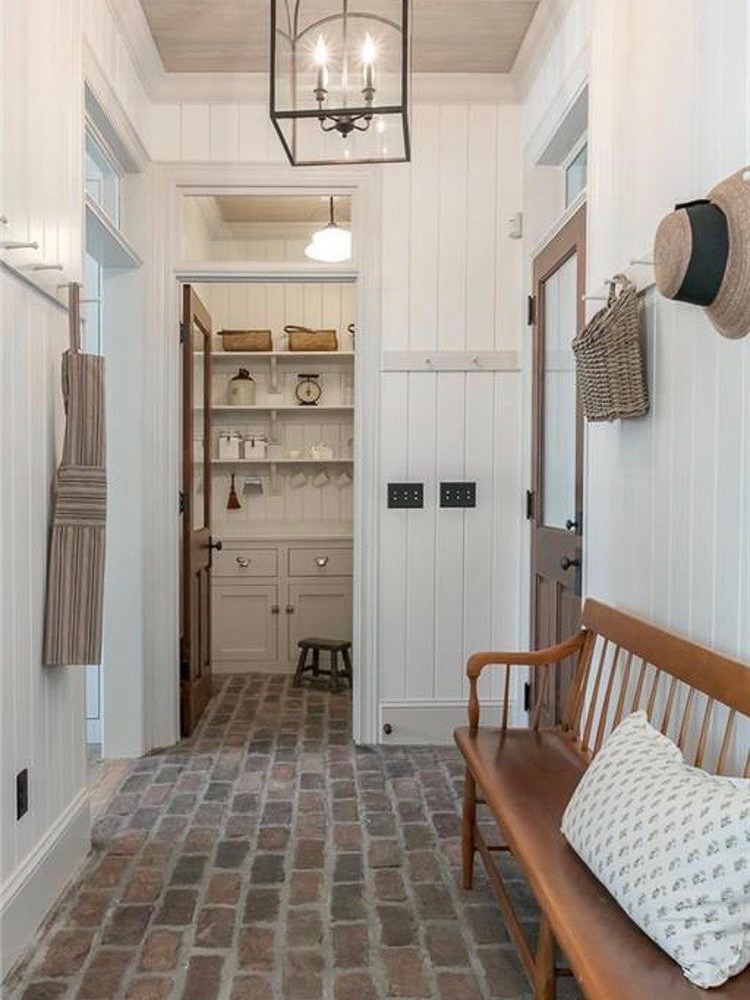 When I was dreaming of our Great Room in the North Wing of the Hamptons Farm Estate, I knew I wanted soaring ceilings and huge windows to give us constant views of the beautiful rural landscape, and a spacious area to host family, friends and events.  A barn style pitched ceiling with exposed wood beams is sure to clearly communicate that you are standing in the greatness of a country style home! Bi-fold doors open out to our full wrap around verandah and extend all our living spaces, bringing the outdoors in!  Not unlike the colonial Australian style, a sprawling verandah helps with the cooling of the home and providing more entertaining space, like an extra wide hug!
THE FURNITURE:
When filling a country lounge room, I always start with a gorgeous linen sofa, with a layered neutral palette with pops of caramel to complement the colours of the landscape.  Oak woods are perfect in a Country Hamptons look, providing a natural texture in a warm tone.  Slip-cover armchairs in an off white are both practical and beautiful!  Hardware and lighting incorporate a masculine element when finished in a wrought iron or matte black.
When it comes to cushions, I have a rule of three: bring together a stripe, a geometric and a floral print.  This way, there is beautiful interest on your sofa and the patterns will bounce off each other.   Spring and Summer see the incorporation of duck egg blues and eucalyptus greens into my country palette, with lush layers of linen in a stone shade of white.
Comfy outdoor living is key in a country home, so I love to use an array of plump wicker chairs and sofas, clustered for entertaining and lovely conversations.  I love to continue the interior palette of soft blues and greens into the soft furnishings outside.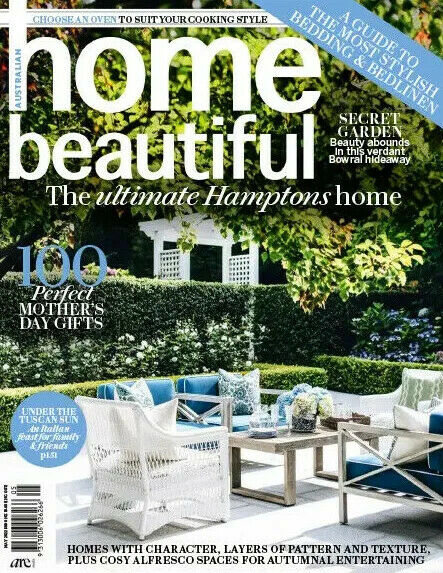 We hope you enjoyed this excerpt from our guest editorial column with Home Beautiful!
Subscribe to Home Beautiful's newsletters and magazines or pick up a copy from your local newsagent – on sale the first Monday of each month – to stay up to date!