How to get the Coastal Hamptons look
We have the pleasure of writing a series of guest editorial columns for Home Beautiful, focusing on a range of particular styles under the banner of Hamptons homes.  We continue the series with the Coastal style for the June edition of Home Beautiful.
The Coastal Hampton's style is more relaxed in design than its high-end counter parts. It is not contrived in any way and depletes the fuss of a classic. Within its simplicity it has become a favourite amongst the Hampton's looks. It is pared back to simple lines and features layers of white on white. A true Hamptons home is more than just an interior design trend – it's a complete way of life! Australia's beach loving culture leads into a lifestyle that is a non-fuss, relaxed feel that starts from the moment you see the home and continues through out with soft linen sofas, chairs and furnishing. Our climate is perfect for an indoor-outdoor flow of living spaces, and for endless hours our backyard entertaining. We have created these lifestyles homes to enjoy as an eternal holiday at home.
THE FEATURES:
The recipe of a Coastal Hamptons home is simple: you may say the 101 of design. The linear weatherboard is an immediate giveaway that these homes are a Hamptons coastal favourite. With a distinctive pallet of white, there are layers of detail including more clean lines with architraves and popping mouldings that details to entice its relaxed feel. The external balustrade influences the look, it is either a simple spindle or a cross style that adds a touch of beach house. A port hole detail is also a coastal feature that blends beautifully on these homes. From the onset you see a sea of white, immediately you feel you can kick off your shoes, flop in a comfy linen chair and hear the rolling waves in the background. On walls, Hardie Groove panelling replaces the traditional wainscoting, and can be taken up the walls and across your ceiling. Paired with white exposed beams in a higher-than-normal pitched roof, this provides a feature with subtle texture. Timber floorboards are a must in whitewashed oak which are regularly dressed in layered jute and cotton rugs. The Staircase should have square lines with simple spindles and continuing washed oak steps and handrails to bring out the coastal feel.
Whitewashed Oak Staircase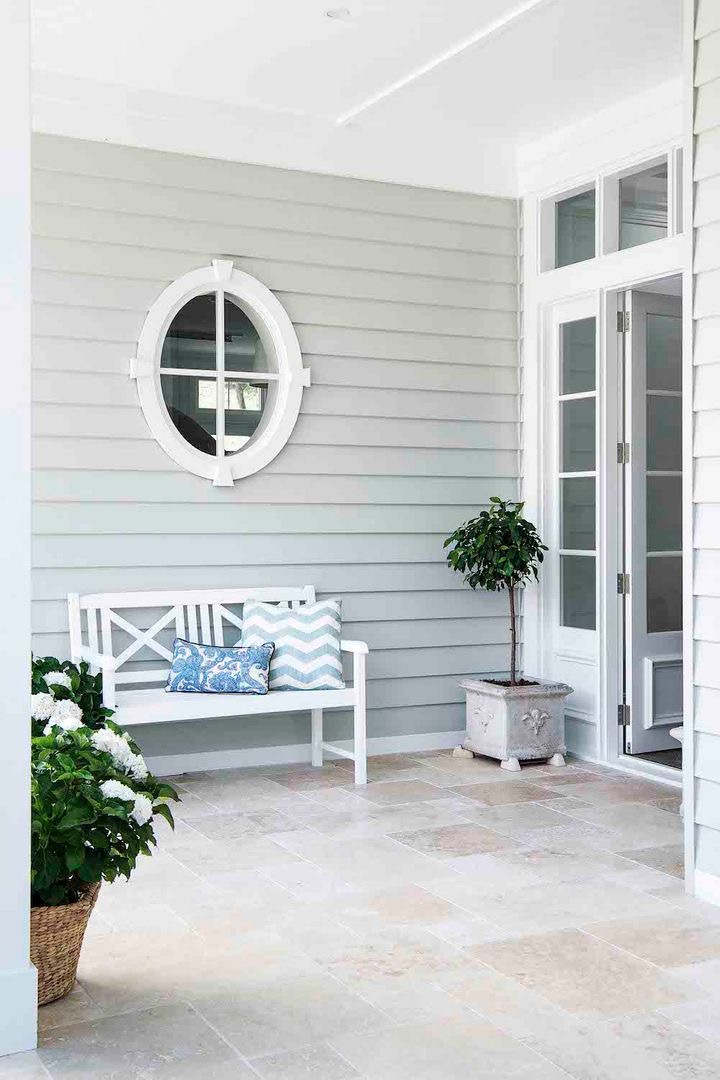 Weatherboard & Porthole Window
VJ Panelling on Walls & Ceiling
The kitchen as always in a Hampton's home is a standout but instead of heavy detail, we use simple shaker door fronts little to no glass with a square post on the island, it is a less is more approach. Hardware in an antique brass gives a nod to the classic and creates an on trend look that will last the test of time.
Bathroom vanities can have a touch of rattan in the shaker front panel again to create the relaxed look with vertical line wall panels that emphasize the space.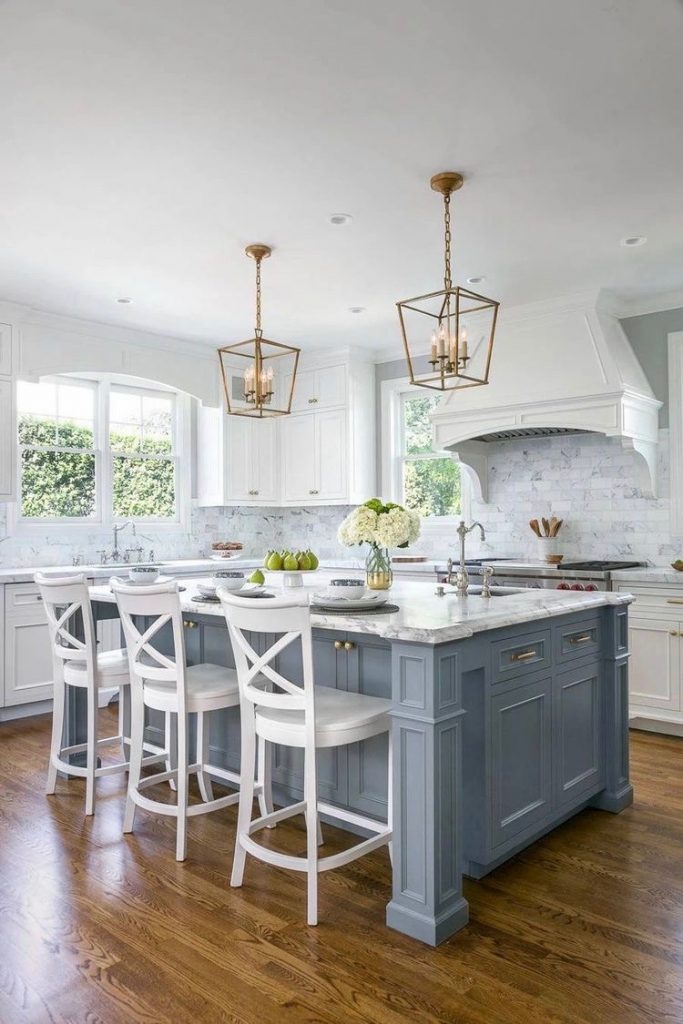 THE FURNITURE
There are two different looks under the Coastal Hamptons banner: the nautical or a modern coastal.  The nautical style leans heavily into a navy and white palette, with lots of striped upholstery. Timber furniture complemented with rattan textures keeps the space grounded. Linen sofas in a deep navy blue with contrast white piping are both dramatic and gorgeous. Sofas in this coastal style should be more relaxed, slouchy and soft. A white console behind the sofa provides an excellent opportunity for vignette styling, to fill the space with your collections of seashells, coral and glass cloches. Striped slipcover dining chairs will keep it relaxed while incorporating another layer of patterned linens. Lighting is always a featured of these homes but with the nautical look we use more wooden with wrought iron touches and glass. Art on the walls would be layers of yachts, coral in blue tones and images of the ocean a plenty. Is in not uncommon to have boat ores in a room which truly brings out that nautical feel. Around the pool are you will most likely find the white Adirondack chairs that capture the true sense of the beach side.
The modern coastal style looks lighter with white on whites and touches of linen neutrals and light blues, it speaks to the beachside living of Australians and with soft toned pastel blues will brings the beachy atmosphere inside. Whitewashed oak and white furniture, with blonde rattan accents keep the space feeling modern and cool. Soft blue linen sofas that you can sit and relax deeply in, are essential to the homely feel of a coastal abode. The forever classic cross back dining chairs with rattan seats are an easy choice.
The materials used in statement lighting can get a bit more creative with beautiful, beaded pendants in shell or wooden beads throughout will communicate a beautiful beach aesthetic.
In these homes you will find bowls of shells, coral and collectables around the coffee, side, and console tables. Using layers of beautiful books to give height to each vignette, they double as entertainment and inspiration to flick though the pages of images to your heart's content.
We hope you enjoyed this excerpt from our guest editorial column with Home Beautiful!
Subscribe to Home Beautiful's newsletters and magazines or pick up a copy from your local newsagent – on sale the first Monday of each month – to stay up to date!