Renovate or Redecorate
Deciding on a realistic budget is an essential part of planning any renovation, if not the most important part! Consider your needs and how you intend to use the space. It is for relaxed family living? Socialising and entertaining? How long you're intending to stay in the house – the difference between five and 20 years could determine where to spend your dollars. This can also help separate 'needs' versus 'wants', and help you decide whether to redecorate, renovate OR both!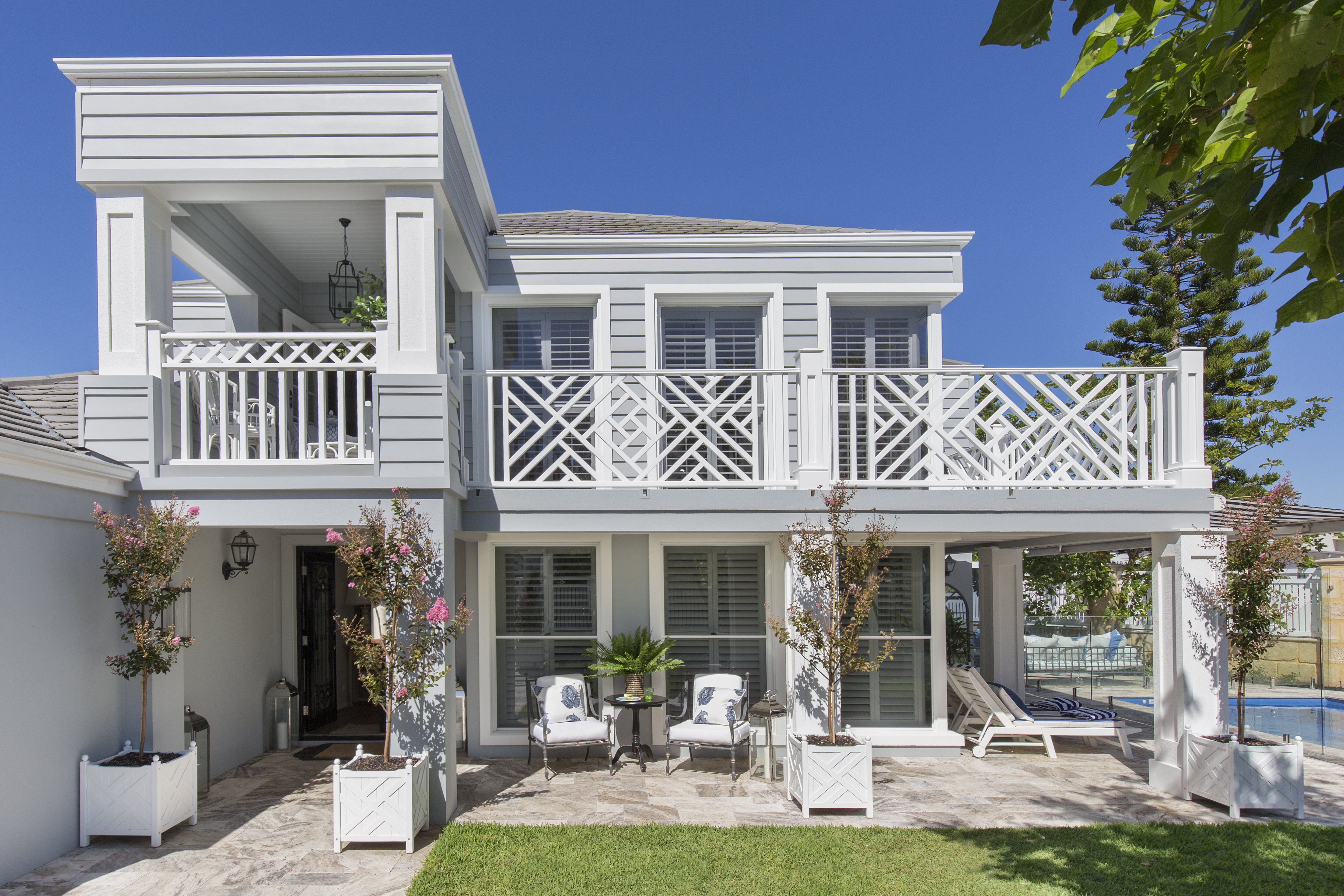 Redecorate
If your budget is on the smaller side, I would suggest investing in a few key pieces such as a linen lounge and several cane chairs, paired with a jute rug. These items can then be complemented with cushions in blue and white; the perfect inexpensive way to create a laidback, seaside feel.
When looking at your furnishings, there are numerous ways you can use furniture and decor to create a seamless transition between your indoor and outdoor living areas too. You can enhance your new furniture purchases with some lush indoor greenery and soft textiles such as outdoor cushions in seaside tones of blue and white. Add a few oversized pot plants and palms as this will create the perfect holiday-at-home look and add vibrant colour to a neutral palette.
You could also consider redesigning the layout of your house, for a more open-plan living, as well as creating an outdoor entertaining space.
Renovate
Take a look around the inside of your home – what are the major areas that you spend time in every day? By changing the colour of the walls this can give you the most high-impact update. White on white is my go-to, but you could also try a soft grey or cream. For big wow factors, think exterior!
The exterior facade sets the tone for the rest of your home – the style here will be a good indicator of what can be expected inside. Although it might seem like a large area to refresh, it can be easily transformed using colour. A great way to bring some Hamptons style to your exterior is by painting your front door. This is an inexpensive update that will make your entrance a standout feature. This could be done in either a black or a crisp white depending on your exterior paint colour.
Next up is the kitchen – nothing screams 'Hamptons' like a great kitchen. You can include white shaker-style cabinets and a subway tile splashback. As with the outside, less is more, so rather than worrying about what's on trend, look for classic pieces – from cabinetry and lighting to tapware and door handles – that will stand the test of time.
There is nothing more quintessentially Hamptons than a weatherboard facade, so with a bigger budget you can achieve this look. Defined by strong, clean lines, this style lends classic, coastal charm and timeless street appeal that leaves a great first impression. For a timeless decorative feature with a true Hamptons feel, you can enhance the lining board under the eaves and add square, shaker-style columns to the front of the home. A balcony or outdoor living space is another great way to bring the Hamptons look to your facade.
With a signature feature of a Hamptons home being an outdoor area designed to make the most of warm days and alfresco entertaining, this is a key reason the Hamptons look is ideally suited to the Australian lifestyle. Oversized bi-fold doors that open onto a balcony, deck, pool area or grassy backyard will encourage a seamless transition between your lounge room and dining space, not to mention opening up your living area to expand your entertaining space.
A larger budget allows you to look at the layout of your home and consider if you can structurally make it open-plan living, as well as looking at flooring options. Are there any walls that could be removed to create a bright, airy space? Is there a possibility of extending or replacing windows to maximise natural light? Colour-matching your flooring, both inside and out, with the walls will help to create a harmonious flow from your living room to your outdoor area. Keeping to a similar colour palette from your living room to your balcony will further encourage a harmonious indoor/outdoor flow in your new open-living home.
If you need any more advise, contact us and we'll be happy to help!