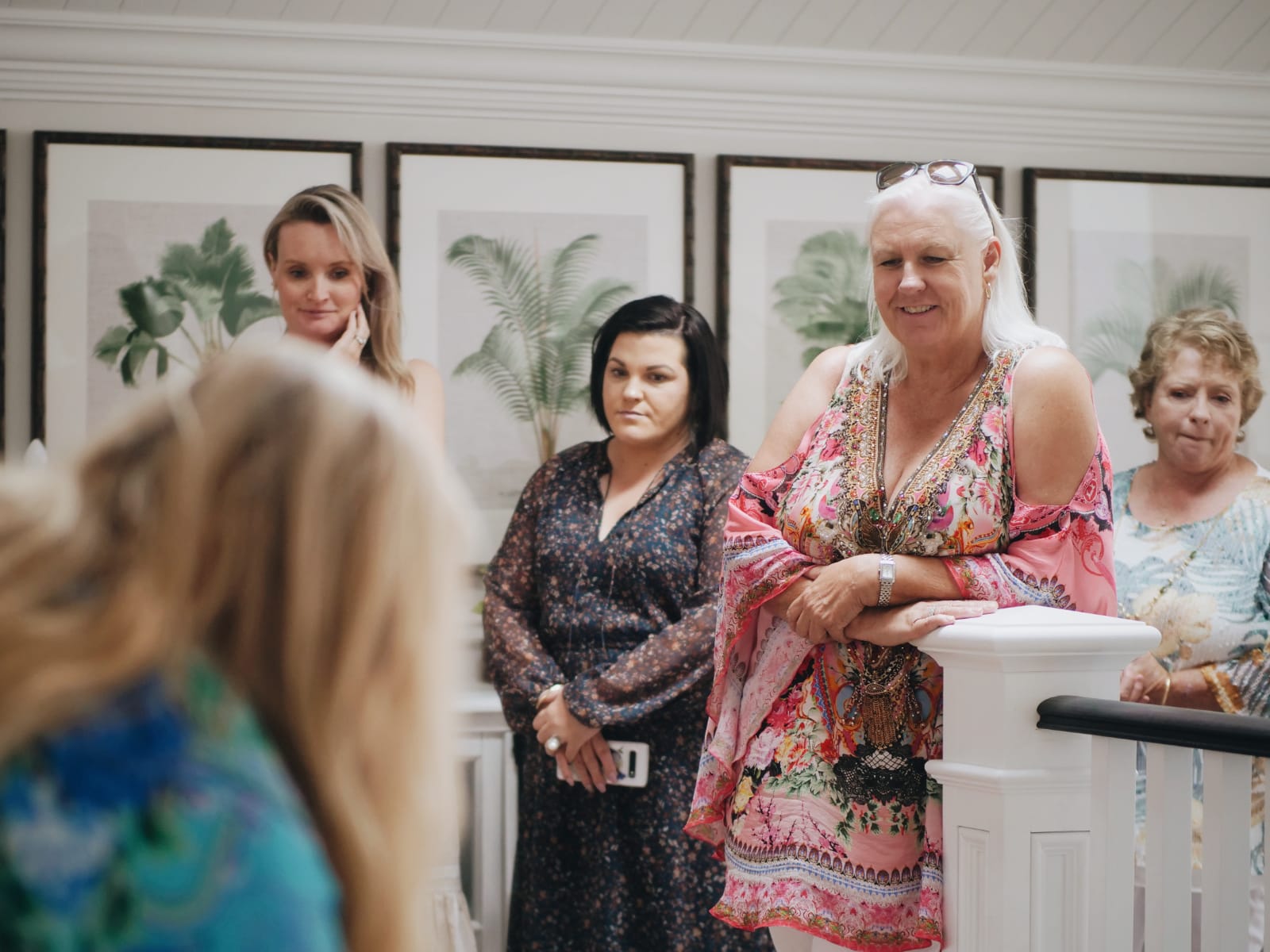 The Hamptons Styling Masterclass
Wow! What an incredible, successful and delightful event our Masterclass was! We were fortunate to be able to offer both a live event and a digital version of the Hamptons Styling Masterclass for those who could not travel interstate. We had so much interest that we wanted to make it available to as many guests as possible!
The Hamptons Farm Estate was primed and prepped down to the tiniest details for our lovely guests to come and explore. Upon arrival, they were greeted with a glass of champagne, a warm hug and an enthusiastic atmosphere!
I lead our lovely guests on a tour of the Hamptons Farm Estate, starting in the South Wing and leading them through each room. We took time to discuss all the elements and my design choices. Our guests were full of awe, curiosity and questions!
We concluded the tour in the Great Room where our guests were met with a decadent grazing lunch. Layered with bright linens and antique dinnerwares, the dining table was full of delightful and eclectic elements.
After lunch, we moved back to the Retreat Room and I took the ladies through the styling process. I demonstrated how to coordinate little details throughout the home for a consistent yet unique look, and broke down the process of styling with layers.
It was wonderful to include our virtual Masterclass guests in our Q&A session, as I provided answers to some of the questions that arose throughout the tour and we were able to have entertaining conversations between both groups.
Wrapping up our magical day, our beautiful guests were sent home with luxury gift boxes that were bursting with amazing products and unique treasures that truly represent the Indah Island style.
It was an incredible experience, not only for our guests, but for myself, to see the delight and wonder of the Hamptons Farm Estate through other's eyes. We are looking forward to being able to offer more live and digital Masterclasses in the future! If you would like to experience the Hamptons Styling Masterclass for yourself, please email us your interest.

Hear from some of our beautiful guests about their experience at the Hamptons Styling Masterclass.
Dear Natalee, Thank you so much for an unforgettable day of wonder and creative learning and thinking. On arrival at the Hampton's Farm Estate I was greeted with a warm welcome and taken away to another world full of beautiful textures, colours, glistening candles with beautiful notes of the Bahamian islands. I felt like I learnt a lot of good tips and tricks for my future styling and shopping adventures while enjoying the luxurious surroundings of the home. All of the ladies felt very special sitting down for lunch at a table set for royalty while enjoying delicious food and sipping champagne. We were given a gift box filled with gorgeous pieces that I will treasure from the day. I really appreciated and enjoyed every moment of the masterclass! Thank you Beautiful Natalee and your team for a very special day sharing your knowledge and home with us, it was lovely to meet you I left feeling like I had won a golden ticket and now I'm officially a Hampton's style master ha! I will be back for a another class for sure!

Lara
I had the privilege and pleasure of attending Styling Masterclass at Hamptons Farm Estate In March 2021. The hospitality of Natalee Bowen, husband Mark, and Georgia, – creative design assistant extraordinaire, was extraordinary. We were welcomed into home of Natalee & Mark as if we were old friends. The styling masterclass was conducted throughout the day, with Natalee giving a walkthrough tour of Hamptons Farm Estate, answering our multitude of questions & showing how each and every room was styled. No area was off limits, we were welcome to take photos throughout the day. I learned so much about styling and interior design as Natalee was generous with her knowledge and design expertise. The highlight for me (one of many) was Natelee showing how she styles from the ground up, starting with a bare room – to finished design, a valued insight into design process. A special mention to the most amazing Georgia, the gourmet lunch you organized was delicious, enjoyed by everyone. Thankyou so very much to Indah Island & Team for a fabulous day at the breathtaking Hamptons Farm Estate.

Patricia