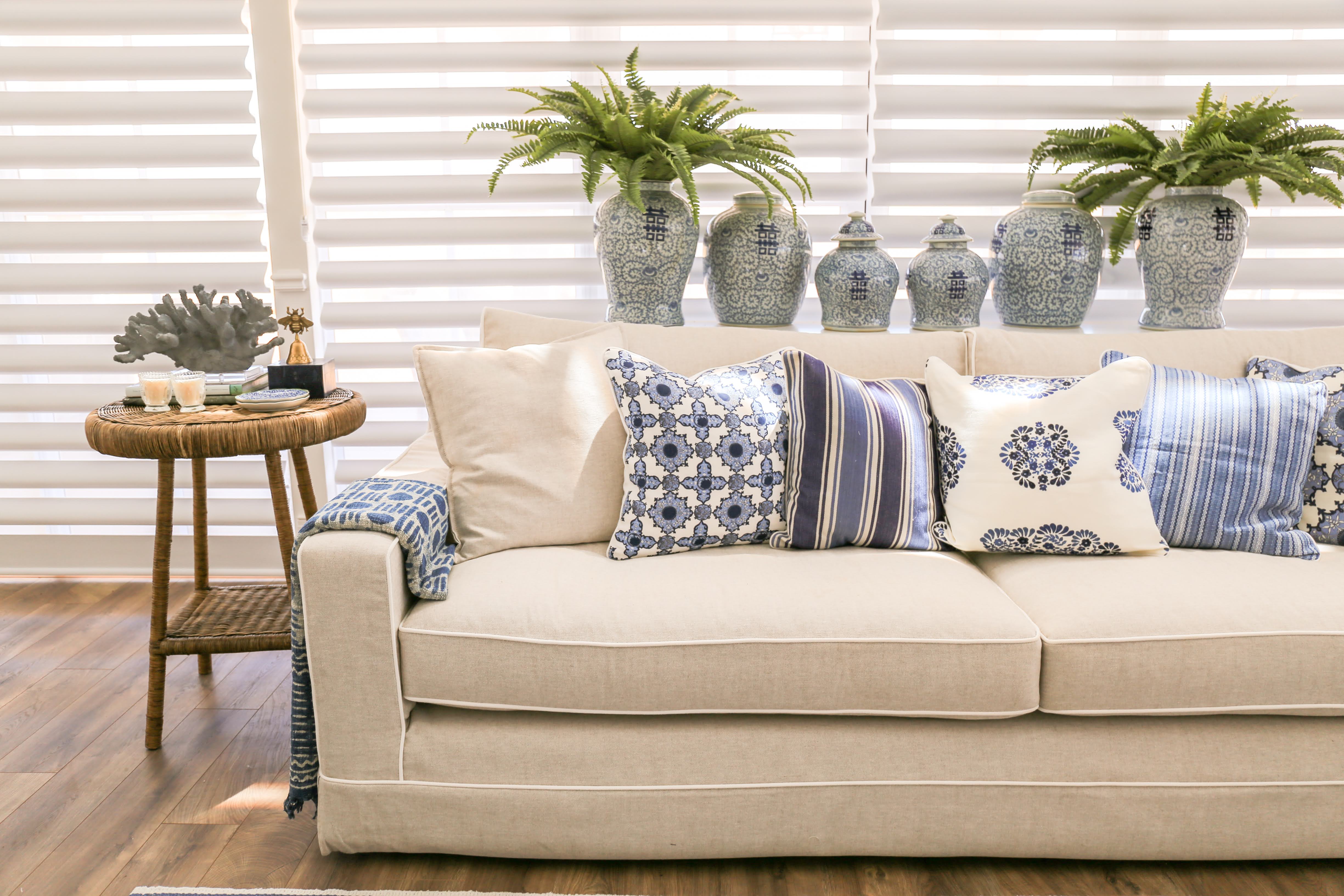 Why we chose Luxaflex Shutters and Pirouette shadings for the Hamptons Farm Estate…
When designing our Hamptons Farm Estate, is was very obvious from the very beginning that much consideration had to be given to the window treatments to accommodate the huge windows.  Hamptons style homes are renowned for their white timber shutters, their airiness and sharp pops of white.  I love them and love how they make the windows become their own feature!

Luxaflex Pirouette Shadings
On selecting window treatments for this home, I was very torn, given we have such a beautiful landscape and I wanted the ability not to have anything covering the scenery. When I discovered the Pirouette shades, they totally blew me away! From the outside looking in, when they are slightly raised, they give the exact effect as a shutter on the inside and this is where they are amazing, when down completely, they appear like a roman blind. Then when adjusted to the soft focus, you can look through them, capturing the outside yet a softness appears on the windows. Then, when you don't want anything covering the view, at a switch of a button, they roll out of view completely and sit inside a very discrete canister and hide away. …. Perfect for all our needs! What I love about them…
'is how versatile they are. They can be opened for a full view, adjusted for a soft-focus view or closed for complete privacy. They also retract neatly into their fabric covered headrail for when I want to raise the shades completely off the window to open the doors or have an unobstructed view of outside'.
'the Luxaflex PowerView Motorisation was the perfect operating solution for those high hard to reach windows in my living room and games room. This innovative technology allows me to easily control my blinds, all with the touch of a button or via my iPad or iPhone'.
'the way Pirouette Shadings provide the appearance of a soft shutter is also great, as they help to enhance the Hamptons look and feel. From the outside they also seamlessly blend with the PolySatin Shutters I have installed in the other areas of my home- creating a uniform exterior finish'.
Luxaflex PolySatin Shutters
One of the other products we selected were the polysatin shutters. Again, when I wanted to have window treatments throughout the home, we wanted to incorporate the white shutters. The PolySatin shutters are perfect for wet areas where you require window coverings for privacy however they need to be styled and look just right. Some key points on why I chose the PolySatin shutters are:
'the look of PolySatin Shutters blended seamlessly into the Hamptons style of the home. I opted for these shutters in White to make the feature windows pop'
'made from an advanced polyresin compound, PolySatin Shutters are impervious to moisture and are guaranteed not to blister, fade, warp or peel, even when exposed to sun and moisture. This made them the obvious choice for my kitchen and laundry windows.'
'the PolySatin Shutters are completely cord free which makes them the perfect window covering solution for households with children and pets. This was one of the many reasons I chose Shutters for the kid's bedrooms, scullery and loft'.
'the Shutter louvres can be easily adjusted to control the light and privacy requirements throughout the day'.
'finished with a revolutionary technology, PolySatin Shutters feature a soft, matte lustre look of freshly painted wood. What's great is ink, crayon and other staining agents do not hold to the smooth surface of PolySatin Shutters and in most cases soap and water is all it takes to remove blemishes, making them really easy to clean & maintain'.
a big advantage of Luxaflex PolySatin Shutters is that they are custom made-to-measure here in Australia, by people who understand the Australian climate. This also means a much shorter lead time than the imported alternatives which generally take months to be ready'.
'finally, for the ultimate peace of mind, Luxaflex Shutters are also backed by a 20-year warranty'