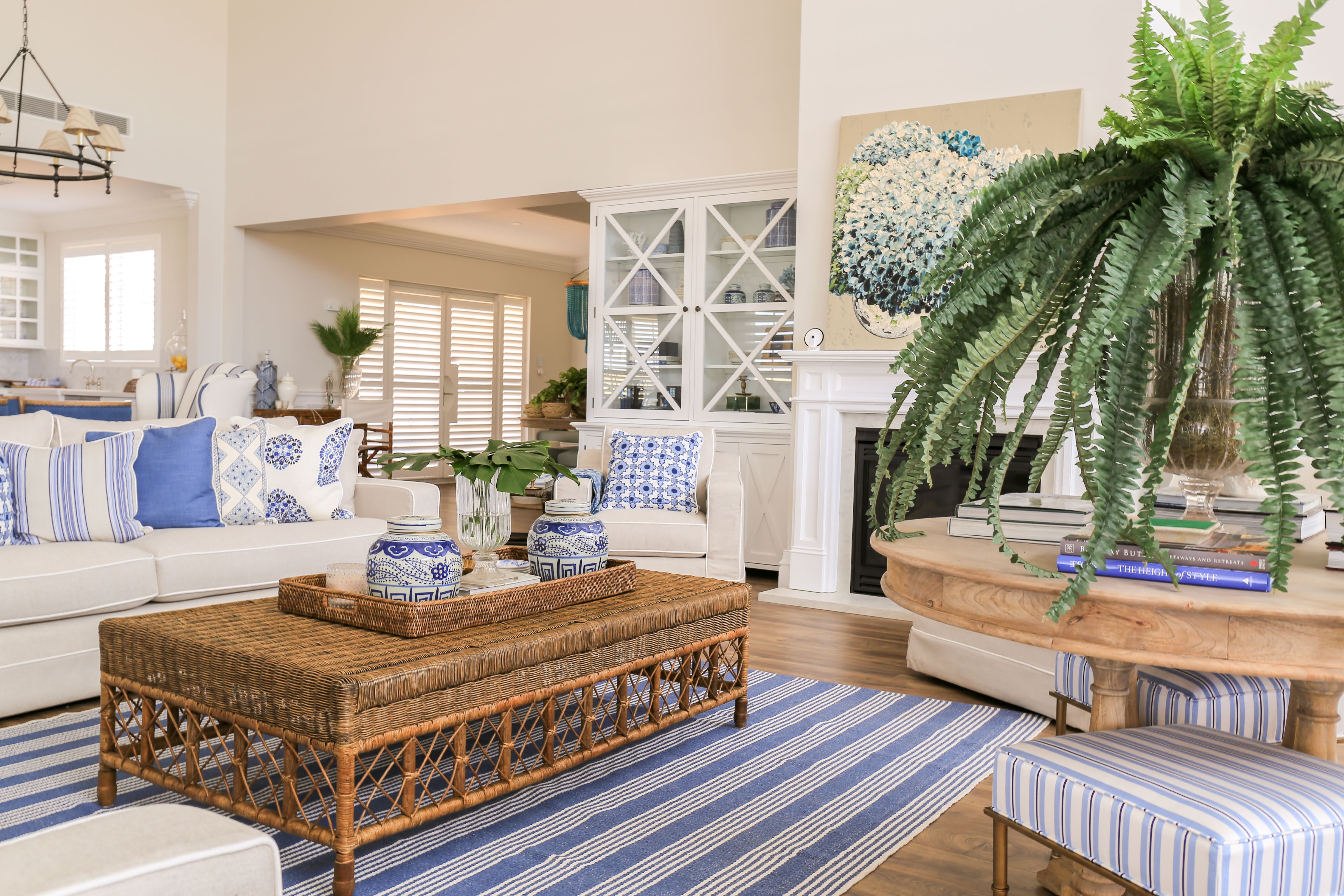 Hamptons Farm Project Reveal: Styling the North Wing Continued…
We have layered the North Wing with Jute rugs and pops of colour with our gorgeous Indah Island x Carnival Homewares collections. These rugs are a recycled cotton and we used a Hampton coastal stripe; one dark blue, wide stripe, and then the other areas with a white and blue single stripe. Their effect breaks the room into two areas that talk to each other without being the same.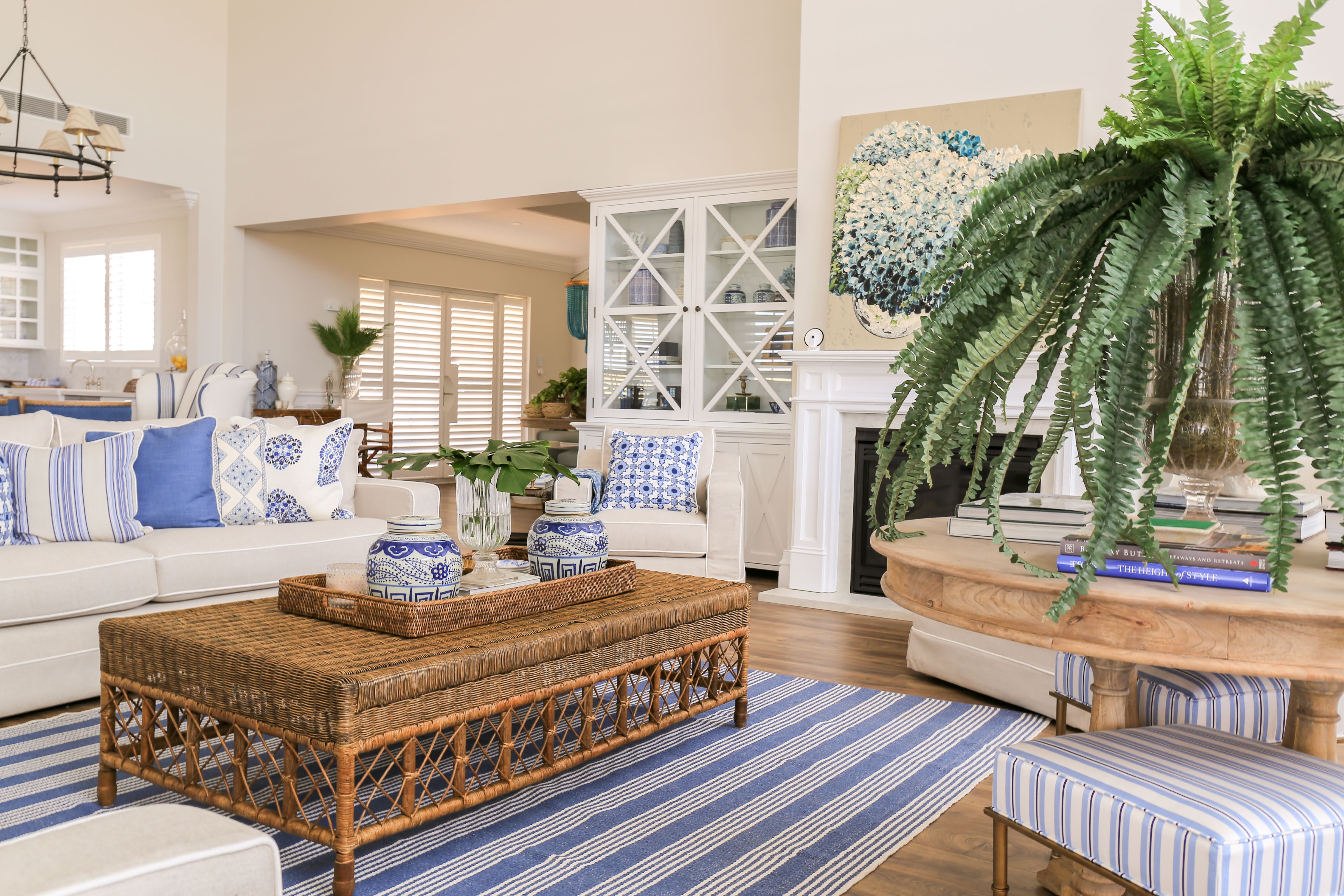 We have used some bespoke pieces also in the North Wing to give personality to the space. We have the sweetest ottomans under the hall table, for layer, in a Ralph Lauren fabric by Everest Design, and some incredible carver dining chairs again in the Ralph Lauren stripe upholstered by the Upholstery Shop. These beauties are some our favourite pieces and you do feel quit regal, when allowed to sit in them! The dining chairs were chosen from Home Stying Warehouse. They areincredibly comfortable chairs with matching bar stools, perfect for those long dinners when entertaining.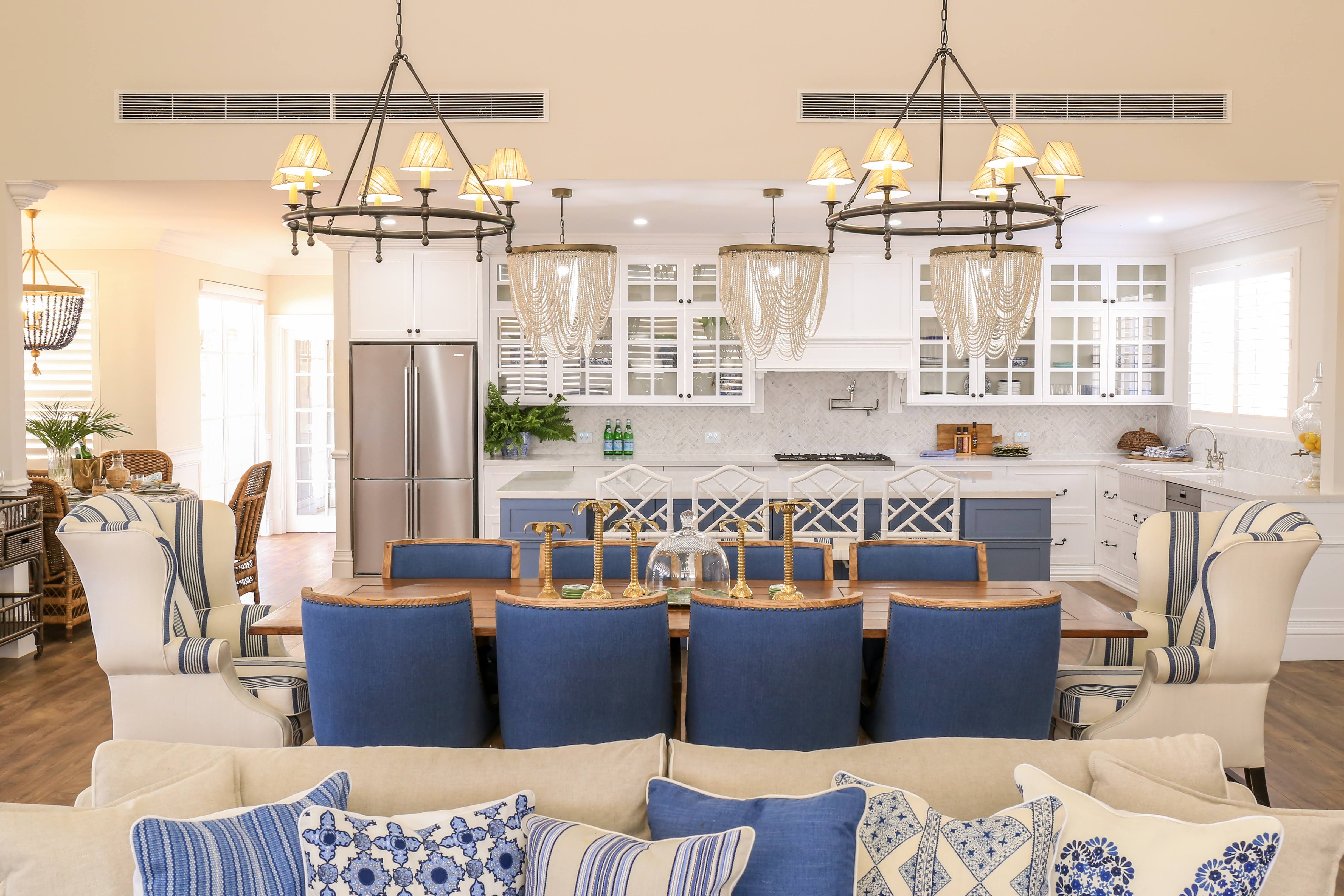 We also have some beautiful cabinetry by One World Collection that stands proud on either side of the fireplace in the North Wing. These cabinets were custom built as they are filled with beautiful vignettes to create a feature in their own right. To bring it all together, a splattering of cushions sprinkle joy on all the seating. We chose eclectic fabrics of blue, white and a soft muted green to brighten the space. The use of St John Lamps in this room creates a mood of intrigue, and our fabric lamp shades create the interest whilst not being to matchy-matchy.
In the North Wing we loved using our very own designed Rattan Coffee Tables as well as a solid coffee tables from a Abide Interiors. Coffee tables are so important to get proportions right; the material, texture and colour ways need to add natural elements. We used rattan in this space to create a relaxed holiday feel and also oak tones that blend, add warmth and are very user-friendly. We then styled these with layers of much-loved vignettes; shells, books, trays and greenery. A selection of unique side tables also brings an element of the natural materials. We again chose rattan and canes to add the warmth into this space. We do tend to choose rattan and cane for our clients as it brings the holiday feel of the Bahamas / British colonial style into our homes and we just love the feel.
Photography by @koby_turner