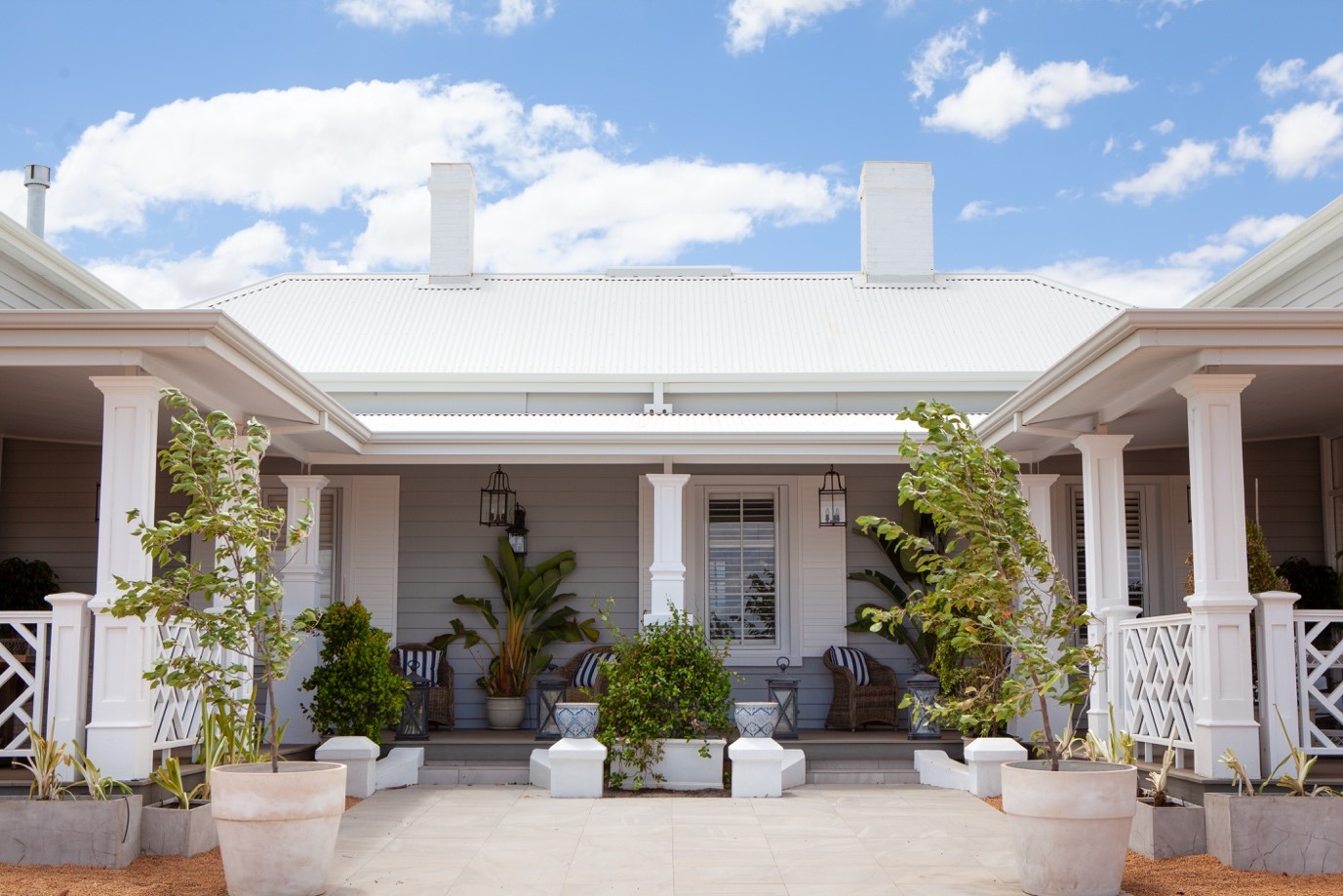 My Hamptons style journey with COLORBOND® steel Matt
I have always loved the look, that is called 'Hamptons style' and I've been lucky enough to have visited the Hamptons region of New York where this style originally hails from and commissioned to do design tours there. This area of New York is littered with the beautiful homes we now know as Hamptons Homes. From Sag Harbor to Montauk, the distinctive houses are breathtaking – it's hard to imagine that the region was actually farmlands before the rich and fabulous started to nest there.
A few years ago the opportunity arose for my husband and I to purchase a piece of land outside of Perth, WA that was in my husband's family for five generations. It was originally owned by my husband's 5th generation great-grandfather who came out from Ireland and built a little home in the 1860's. Originally it was going to be just a small renovation until we decided to bring the Hamptons to Australia, on our own farmlet.
The original homestead comprised of 3 bedrooms, a living room, a kitchen and sleepout and a small veranda that was quaint and typical of its time. But the designer in me wanted to create an incredible home that would showcase the enormity and grandeur of the Hampton style home. And the advantage was that we had the land to develop this dream home.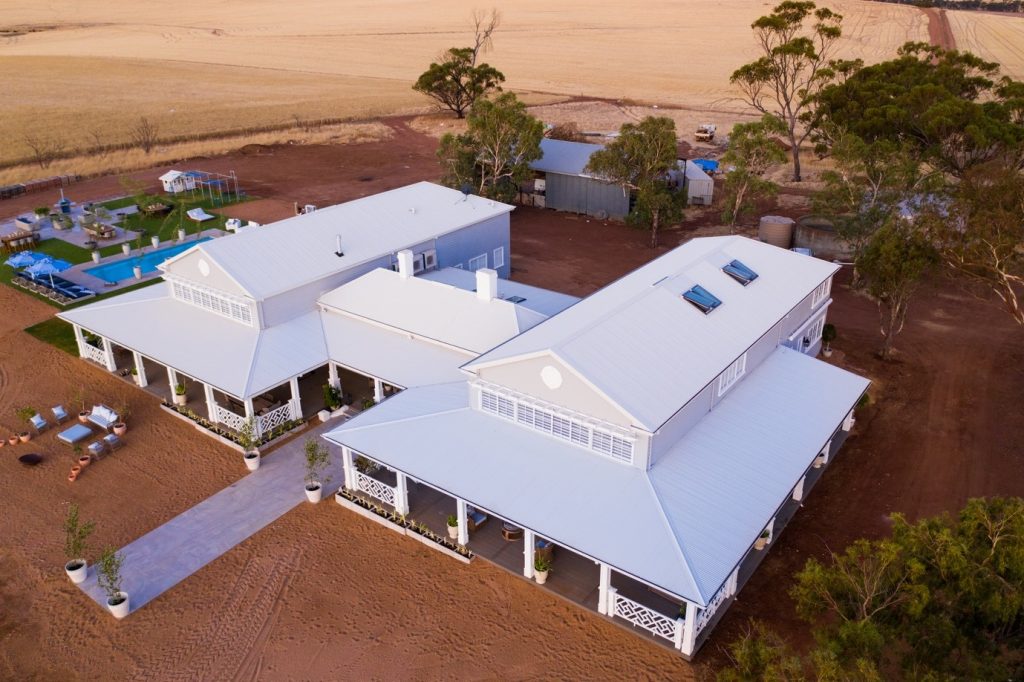 When it came to designing the home, we wanted to make sure that not only were we in keeping with the farmhouse style but also my belief of what it is to be a Hamptons home. I knew from the outset that we wanted a grey and white colour palette and needed to get the proportions right from top to bottom.
With this palette decided on, I selected a pale shade of grey as the house colour. My roof material selection was an easy choice – I went with COLORBOND® steel as it won't catch fire and it has Thermatech® solar reflectance technology to help reflect more of the sun's heat on hot sunny days which is an asset given this location is exposed to a lot of heat, and other elements. We decided on a standard corrugated profile for the roof to pay homage to the original farmhouse. When it came to selecting a colour and finish, BlueScope made this simple by the introduction of the COLORBOND® steel Matt range a couple of years ago. The COLORBOND® steel Matt finish has been achieved using BlueScope's innovative Matt paint technology, which diffuses light for a softer, more textured appearance. It's available in five neutral colours, from subtle, lighter tones through to bolder, darker hues which makes it perfect for achieving different types of Hamptons styles.
COLORBOND® steel Monument® Matt and COLORBOND® steel Surfmist® Matt were both on my initial list. After careful consideration, I ended up selecting COLORBOND® steel Matt in the colour Surfmist® which is a beautiful, subtle colour and a perfect choice to make the exterior pop in the rural landscape .
Although the Hamptons style does follow particular principles, there are a wide range of looks and trends that fall under this banner:
Modern: an example of this could be a white home with a roof made from COLORBOND® steel Matt in the colour Surfmist®
Monochrome: a more daring combination that could include a dark home and a roof made from COLORBOND® steel Matt in the colour Shale Grey™ or the reverse of this with a white or light-grey home and a roof made from COLORBOND® steel Matt in the colour Monument®.
Coastal look: an example of this could be something upbeat and beachy like a blue or navy home and a roof made from COLORBOND® steel Matt in the colour Surfmist®.
There are many possibilities and all of these colourways would work well to achieve your own unique spin on the Hamptons look.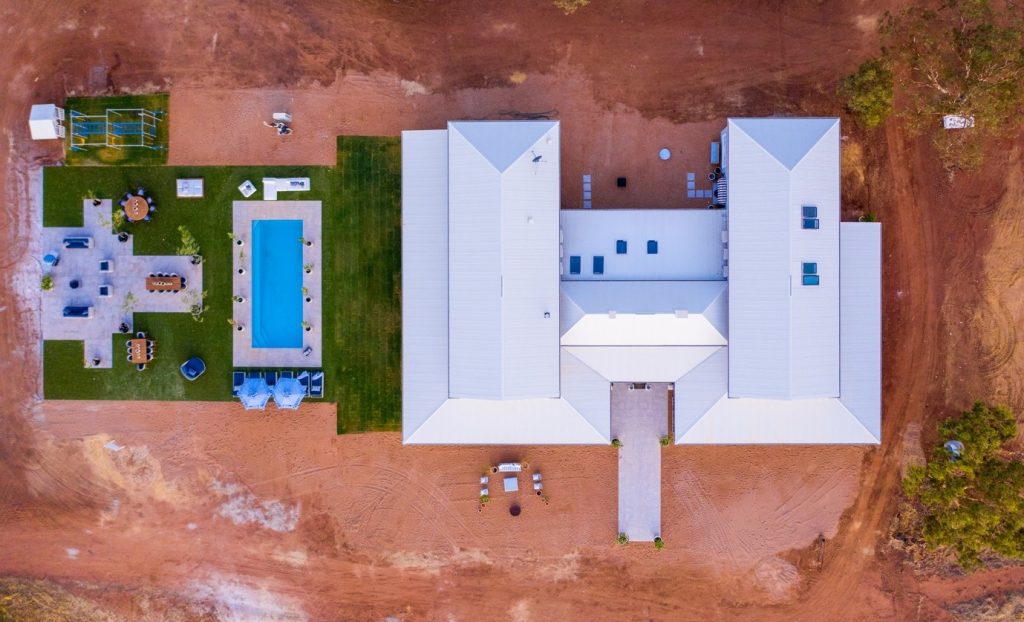 It's important to remember that your exterior should serve as a teaser for what's to come on the inside. Therefore, one of the first things you want to do when starting a project is to create a vision for your exterior that is to be carried through to your interior style choices. Colourways should start to tell the story from the onset and white is a colour that you can't go wrong with when seeking a Hamptons style home!
We loved working with the COLORBOND® steel Matt range – it was easy to install and it looks fabulous. It is a testament to the build and an ode to the past of where our little homestead started.
This blog is brought to you in collaboration with BlueScope, the proud manufacturers of COLORBOND® steel, who we had the pleasure of working with on our project.
1Thermatech® technology is not available in Night Sky®, or non-standard colours, and is not available in COLORBOND® Stainless steel, COLORBOND® Metallic steel, COLORBOND® Coolmax® steel or COLORBOND® Permagard® steel. Results will depend on roof colour, level and location of insulation, type and location of building shape and function.