Our Forever Home
When we had considered 'The Top 4 Questions' (Check out our To Build or Renovate Blog) for my family and I, we decided to buy a home in an area we loved, that we could renovate to become our dream Hamptons home. We searched and searched and found the suburb and block we wanted but the house was a disaster! It was a horrid mess of faux-orange mediterranean walls on the exterior with green internal walls and a sunken lounge, which can be a renovator's nightmare.
All this and to finish the dreadful green floral drapery, we knew there and then, we were going to buy this home but it all had to go. It was the view that took our breath away. It was on the water and this was really all that mattered to us at the time. So, where to start, what to do, how could we turn this mediterranean mess in to a stunning Hamptons home? With all this in mind, the worst design crime of this home was the way in which it turned its back on the water and light, with solid walls on the marina side and exterior shutters making the living spaces dark and gloomy. We were keen to instantly bring home the enduring chic of the Hamptons style so embarked on our whirlwind renovation.
The first step was resolving the sunken lounge, removing a nib wall between the front door and living room, both in which improved the flow throughout the home. The mezzanine level was extended and squared off. The round columns (which needed to be kept for structural reasons) were replaced with squared-paneled newel posts. The external shutters were binned in favour of white internal shutters and new window architraves. Keeping true to the Hamptons style it was all clean lines, very classic and stylish, but also felt very homely and comfortable. We chose materials that suited the classic style like marble, oak and ceramic to fit with our white on white palette. To complete the colour palette, we added occasional blues to create a relaxing vibe and comfortable chairs paired with a solid timber table in our elegant eating area. As an Interior Designer I knew we had to choose the right style of chair, rug and cushion to change the rooms feel. To finish off our rooms we accessorized with an eclectic mix of pieces, many referencing the waterside location and embellishing the sitting room's blues, white cupboards and coffee tables.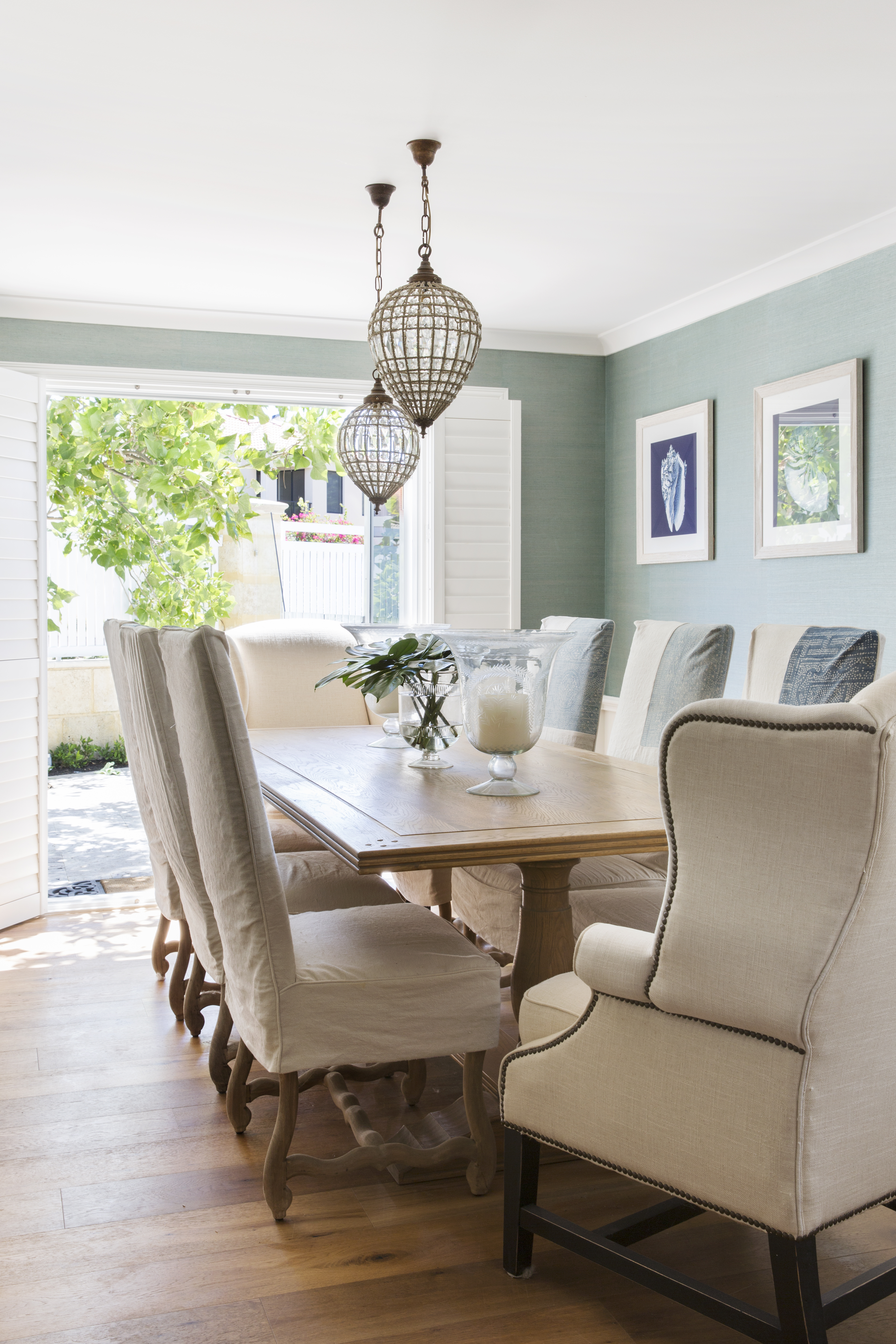 It was an exciting process and a fabulous experience as the Interior Designer became the client. I was my own client and probably the worst client I had! When you're exposed to so much beauty and choice daily, to narrow down your choices, was a huge test of my restraint. Our 'before and after' transformation was amazing! With great design and clever aesthetic choices, you can really achieve the look you want to create no matter what you begun with.