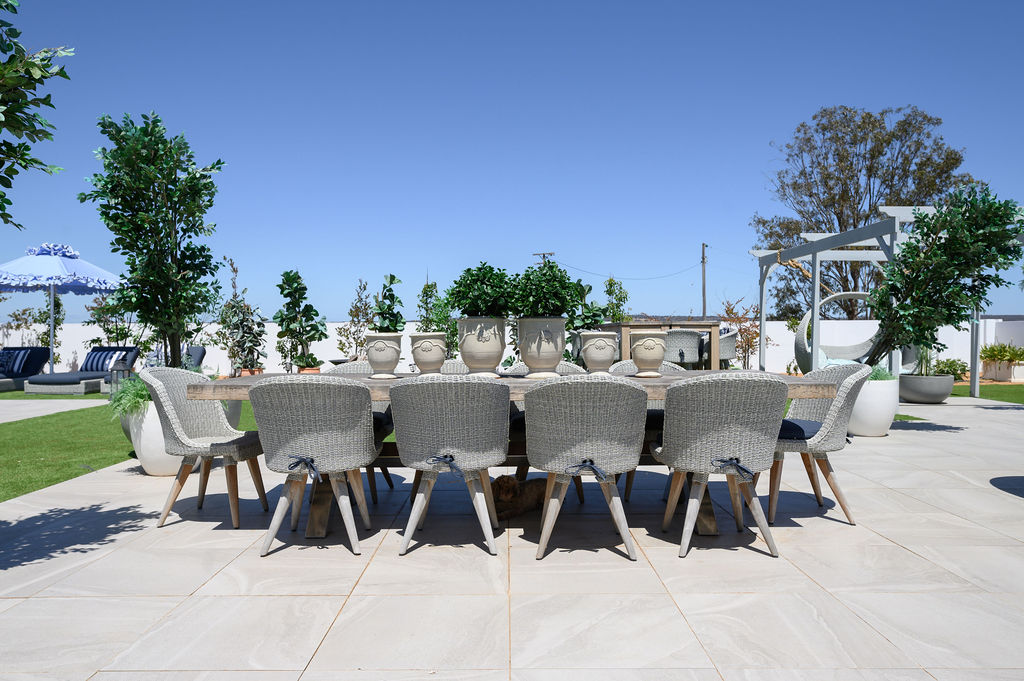 Outdoor Living with Osier Belle
Creating a luxurious resort-like experience was our goal when designing the Hamptons Farm Estate entertaining area.  In almost every inch of the space, you can see the gorgeous range of outdoor furniture from Osier Belle.  We have chaise sun loungers by the pool, two hanging daybeds, two dining sets and an outdoor lounge arrangement centred around the beautiful fireplace, all from Osier Belle!  These furniture pieces are accessorised with The Textile Design Studio's upholstered cushions that come in the most incredible outdoor fabrics.
If you are fortunate to have an outdoor living space in your home, whether it's small balcony or blend of decks or poolside with lawn, creating an environment you can retreat into requires a number of essential needs.
Whatever your challenge, ensuring your outdoor furniture is truly made for the outdoors is critical.  Your chosen furniture pieces and cushions must be able to withstand our harsh Australian elements.
When designing outdoor spaces, I consider these five essentials;
Continually storing cushions is not luxurious or indulgent, just frustrating and time-consuming – not to mention, your outdoor space looks dejected and half dressed. When you buy outdoor furniture, ensure it has been specifically designed to stay outdoors in all weather, including the cushions. It is an expensive option but pays off for an ever-welcoming zone to instantly relax in.
Another essential consideration is the size of the furniture. Too big or too small will always feel wrong and subconsciously awkward. Opt for customisation of size to ensure everything is perfectly balanced and made for the space.
When deciding on materials, be brave and mix in a combination of wicker colours, fabrics, timbers and pop in some concrete for a contemporary nod. This shows confidence in your styling and distances your outdoor setting from that one-stop shop showroom look.
If buying timber, make sure it is of excellent quality; ask to see the certification to ensure it has not be felled from illegal plantations and ask to see photos of customer settings that have been outdoors for at least one year.
Finally, mood lighting can transform any space into an enhancing, magical place to entertain and relax in. Lanterns packed with fairy lights create a beautiful statement piece and, if you put on a timer, you never have to worry about them being on to welcome you. Customised outdoor ceiling shades mimic what you naturally have indoors, further labelling the area as an extension of the home. Clusters of candles are always a winner; who doesn't like a romantic candle?
Blend these five essentials for your perfect outdoor retreat; discover what is possible and be inspired with more exclusive ideas at www.osierbelle.com.au