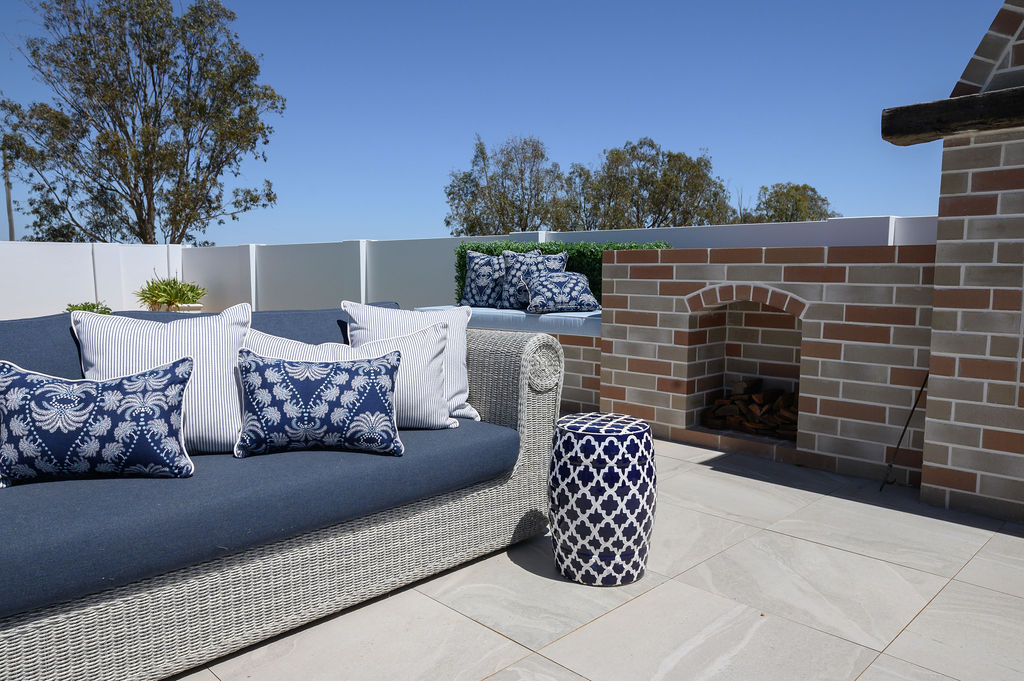 Resort Living at the Hamptons Farm Estate
For years, I have pinned over luxurious sun umbrellas seen throughout American hotels, and I finally had the perfect place to use them in!  In the early stages of designing the Hamptons Farm Estate with our celebrity landscape designer Dave Franklin, we visualised a space to spend long summer days lounging by the pool.  The outdoor entertaining space of the Hamptons Farm Estate was specifically designed to exude a feeling of being in a luxury resort.  The furniture and fabrics we chose was also very deliberate.
We collaborated with Osier Bellefor their gorgeous range of outdoor furniture, that can be seen in every inch of the Hamptons Farm Estate outdoor living space. We have chaise sun loungers by the pool, two hanging daybeds, two dining sets and an outdoor lounge arrangement centred around the beautiful fireplace, all from Osier Belle!  These furniture pieces are accessorised with The Textile Design Studio's upholstered cushions that come in the most incredible outdoor fabrics.
The Textile & Design Studiooffers the Santa Barbara Designs customisable umbrellas, that are seen around the world in some of the most exclusive hotels and resorts and the most luxurious residences.
We designed our poolside umbrellas in collaboration with 3Beaches, and we used their extremely durable and beautiful Sunbrella fabrics. The powerful performance of Sunbrellafabrics keeps the beautiful 3Beaches designs looking fantastic for years! The fabrics are UV resistant and fadeproof, and of course are resistant to water, mould and mildew; and the fabric is backed with Sunbrella's leading warranties.
Adding an umbrella to your backyard can bring needed shade four our extreme Australian summers, and an extra pop that completes your design.
By using 3Beaches and The Textile and Design Studio, we could easily select complementary Sunbrella patterns and colours for all of our outdoor Osier Belle furniture; from the chaises, throw pillows, to the outdoor umbrellas for a completely coordinated look.
By working closely with exceptional companies, we have succeeded in designing a truly beautiful, resort style space at the Hamptons Farm Estate.[/vc_column_text][/vc_column][/vc_row]